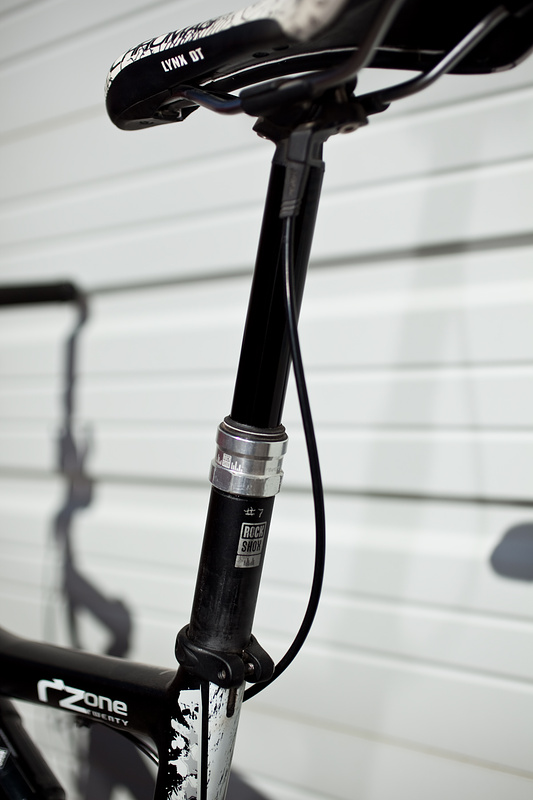 Pinkbike just grabbed some photos of prototype Rockshox Reverb drop seatposts, the brand's first entry into the adjustable seatpost game.
The Reverb is a 5″ stroke, hydraulically controlled drop post.  The internals use air to push the seatpost up, much like other models available, but where the Reverb differs is the use of their XLoc hydraulic line with bar-mounted remote to not only activate the drop or rise, but to control the speed at which the seat raises back up.  The design of the remote borrows heavily from the new Poploc lockout remote on their Blackbox forks with the addition of a dial to tune the return speed of the post.  The remote uses Rockshox and Avid's Matchmaker system to mount as one with their brake levers, keeping the cockpit tidy (it can also be mounted on its own).  The ability to slow down the return rate makes it easier to stop the post mid-stroke for mid-level heights should the situation warrant it.
Internally, the post uses three different keyed sections to keep rotational play down, and it uses a triple-lip seal with foam oil ring to keep dirt, water and dust out.
Read 'more' for specs and pricing…
125 mm/5″ of infinite adjustment
Hydraulic actuation using 2 wt. suspension fluid
IFP (internal floating piston) separates air spring and fluid
Remotely operated by Xloc push button (left or right sides to be avail.)
Return speed adjustable via dial on Xloc remote
three-key anti rotation design
Shaft material: 3D Forged 7050 Alloy
Head material: Forged 7050 Alloy
Includes Speed Lube bleed kit
Zero offset head
30.9 mm and 31.6 mm diameters
380 mm and 420 mm lengths
515 grams
September release date
MSRP $295 USD