CloseTheGap's new SaveMyBar road handlebar end plugs are like a low-cost insurance policy protecting your carbon bars in the event of a small scrape. They aren't quite magical protection against all crash damage, but they proved themselves effective as protective scuff guards for the entire Team Jumbo-Visma squad of '22 Tour winner Jonas Vingegaard in several falls and peloton pile-ups during this year's Grand Tour.
And now, they can guard your bars too, for just 10€…
CloseTheGap SaveMyBar low-cost protective bar plugs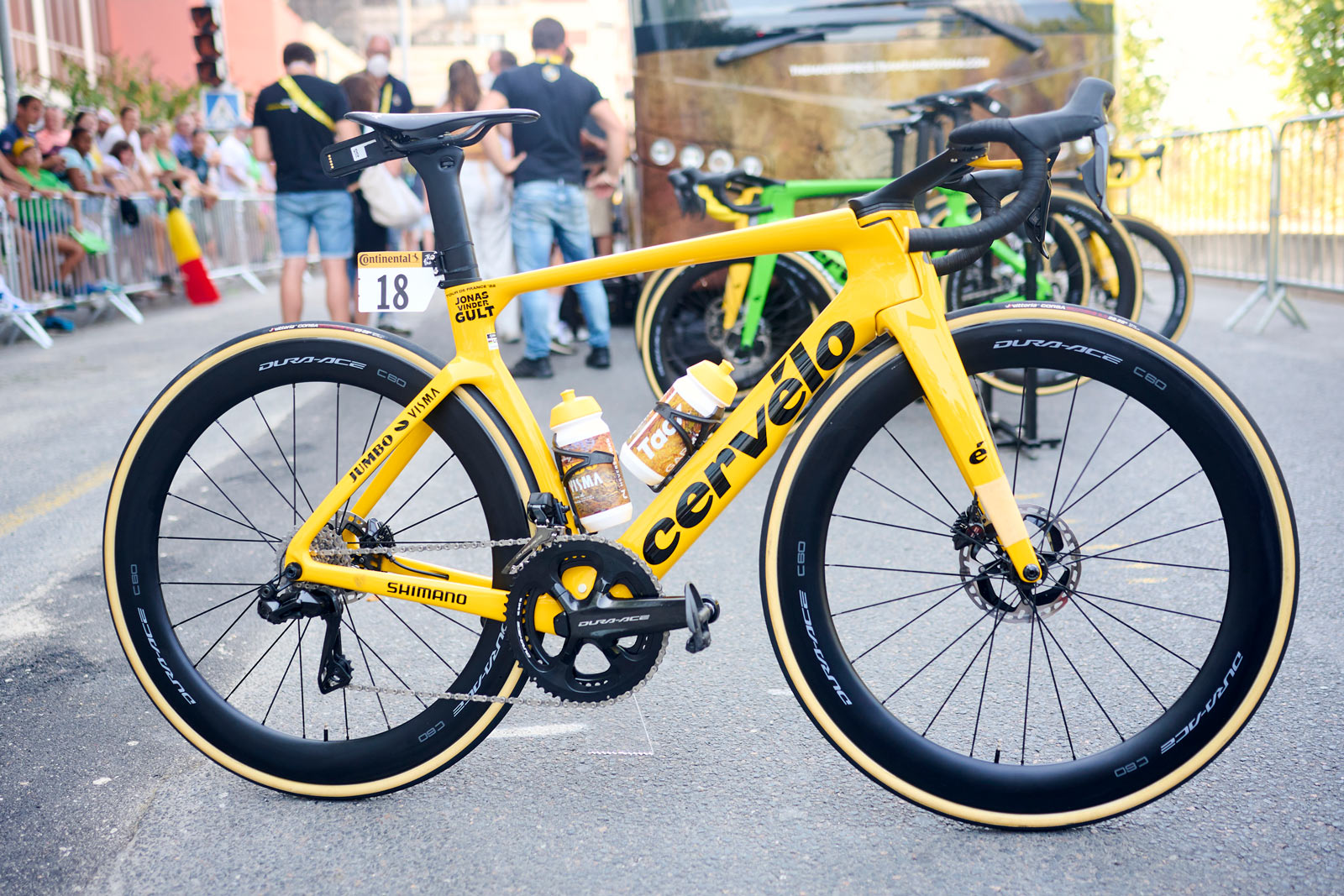 I'm admittedly a sucker for simple, low-cost innovations. Sure, fancy new bikes are cool and all… like Tour de France winner Jonas Vingegaard's subtly reshaped Jumbo-Visma yellow custom Cervélo S5… but that thing sells for 13,000€! That's nowhere near most of our road bike budgets.
But we were a bit curious when we spotted Vingegaard's yellow bar plugs, and his teammates' black plugs.
They cost just 10€ and serve a cool purpose.
Developed by CloseTheGap to "solve a specific request from the team mechanics", the SaveMyBar plugs protect against "filing-down of carbon handlebars during racing crashes". They specifically don't try to prevent real handlebar crush or cracking crash damage (even a simply scraped bar should be inspected by an expert for real damage, before you think about re-wrapping new bartape anyway). But these scuff guards put plastic between carbon & asphalt so they get ground down the next time your bar meets the ground.
That's especially helpful on this Cervélo's two-piece integrated full-carbon HB14 handlebar and V-stem combo cockpit. We haven't seen an official pricetag for replacing it after a crash, but I wouldn't be surprised to see it between 300-500€. And now that everything is super-integrated, it also helps cut back on the time for a mechanic to remove a damaged bar, put a new one on, and completely reinstall all those hidden cables and hydraulic lines that need to now be re-bled.
How do they work?
How are a couple of ten euro pieces of plastic going to save your bar?
Their secret is that these handlebar end plugs go over your bar, not inside of it. It's really simple actually, these plugs are more of a bumper that slips over the outside of your bar, with one tab facing to the side so that when you lay the bike over they contact the ground before your carbon bar does.
They are installed before your bar tape, and electrical-taped in-place so they won't move. Then you need to carefully wrap the bar tape from bottom to top almost like normal. Pay attention and trim the start of the tape angled like you would finish (watch Jumbo-Visma's mechanics guide you above) to get a clean finish up against the SaveMyBar plug's raised bumper end. The plugs do make the tape about 3-4mm wider at the end of the bar, but no taller, so fit & ergonomic impact should be minimal.
CloseTheGap SaveMyBar – Tech details, pricing & availability
At 8g for the pair, the SaveMyBar bar plugs are made of high-impact, abrasion-resistant, UV-stable, injection-molded plastic to protect your carbon bars from road rash. That actually makes them even lighter than most internal expander-style bar plugs (but about the same as some basic push-in plastic plugs.)
For just 9.95€ you can pick them up now in either low-key black or Tour-winner Jumbo-Visma yellow from CloseTheGap directly or through one of their global retailers.