The new Shimano GRX RX820 series looks surprisingly similar to their original gravel group, but there are plenty of subtle (and not so subtle) updates that give it more range, better ergonomics, and even some system modularity that makes it easier to switch things around.
Let's start with what stays the same: It keeps the 2.5mm chainline offset, sitting a bit wider than their road groups to improve chain/tire clearance. It also keeps some cross compatibility between it and their road and mountain bike groups, albeit with the newer 12-speed ones, and it still has a mechanical option. In fact, only the 12-speed mechanical GRX group is launching now, Di2 will come later.
"We think GRX is for everyone, and about 75% of the market is using mechanical and wants mechanical."

– Nick Legan, Shimano Road/Gravel Brand Manager
There are still 1x and 2x options, both equivalent to Ultegra-level road, and there's still an RX610 (105 equivalent) series, which also upgrades to 12-speed. Now, here's what's new…
Updated Gravel Gearing
What made the original GRX group so refreshing was that it matched up with their road and mountain bike lineup, allowing you to mix and match cassettes, shifters, and derailleurs to create a group that worked for you. GRX parts were more gravel specific, but if you already had a big cassette, you could add the clutched rear derailleur and offset crankset to gain more offroad capability.
Since then, Shimano's road and MTB cassettes have grown, with 105 Di2 introducing an 11-36 cassette (bigger than the original 11-34), and MTB cassettes jumping to 10-45 and 10-51 (up from 11-42). So GRX has grown, too, using those same cassettes with either a 48/31 double chainring or 40- and 42-tooth 1x chainrings to give riders more gear range. Here's how it all compares: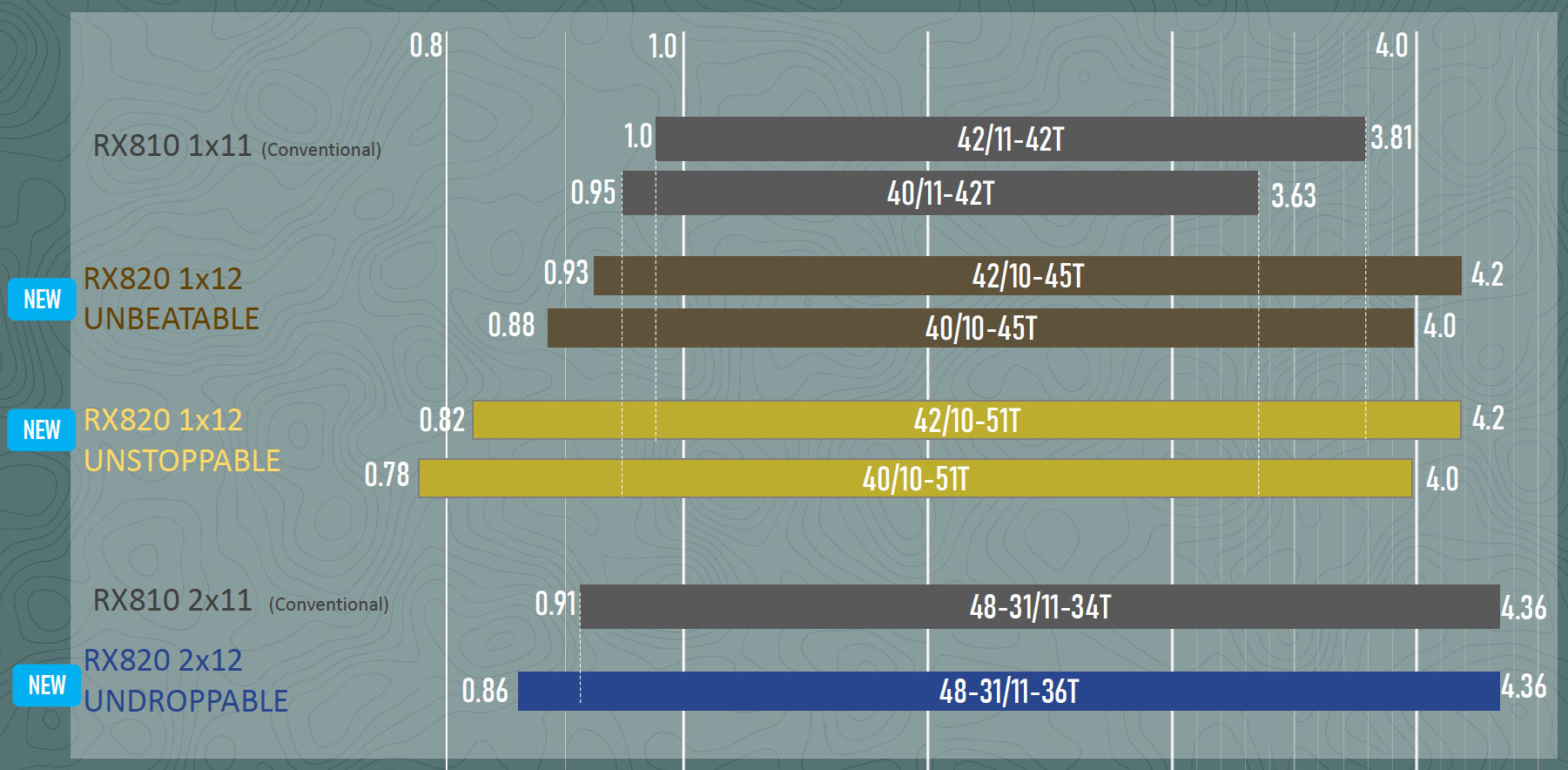 Not only do you have more range, but the added cog improves gear steps in the lower part of the cassette for more refined cadence management.
For 2x groups, you can choose an 11-34 or 11-36 cassette, both borrowed from Ultegra and 105, respectively (105 is the only road group with an 11-36 option). Both use their new HG L2 spline interface, which means they're backward compatible with standard HG freehub bodies and the newer, lighter L2 versions that debuted with Dura-Ace (and the new gravel wheels…keep reading).
For 1x groups, you also have two gearing options (10-45 and 10-51), but you'll have plenty of trim level options – Deore, SLX, XT, and XTR.
Yes, all of the 1x cassettes are simply mountain bike cassettes, there's no "GRX" cassette, though they do "spec" XT as the recommended level to match the rest of the group. That means you'll need a Micro Spline freehub body on your gravel wheels to use the 1x GRX groups.
The chainrings are all new and optimized for 12-speed chains, but the crankset is basically unchanged save for a new finish. It fits both 1x and 2x chainrings and comes in 170, 172.5, and 175mm lengths. Bottom bracket sold separately.
A Modular Rear Derailleur
The original 11-speed GRX group had two derailleurs, one for 1x and one for 2x. That 1x group focused on the 11-42 cassette, so if you wanted to run the larger 11-46 MTB 11-speed cassettes, you had to upgrade to the GRX Di2, which could hack together with an XT Di2 rear derailleur assuming you used the right junction box and all firmware was updated. But officially, the biggest option was 11-42, which is smaller than either of the new cassettes.
Now, the new 12-speed GRX gives you two GRX derailleurs for 1x groups, one for each of the cassette sizes. Or, more accurately, it's two derailleurs in one – all you need to do is switch the pulley cage to make it work with the other cassette size.
Sold with two distinct model names, the RD-RX822-GS (medium cage) works with the 10-45 cassette, and the RD-RX822-SGS (long cage) works with the 10-51 cassette, but…
The only difference is the cage, and you can swap them out, swap cassettes, and (probably) swap chains as you'll need a couple extra links for the bigger cassette and longer cage.
It's a bit of work, but it's still better than having to buy a new derailleur.
The RD-RX820 rear mech is purpose built for the 11-34/36 cassettes and double chainrings and is not modular. Technically, you probably could swap out the pulley cage, but the parallelogram and movement pattern are optimized for the smaller cassettes, so, don't.
Updated Brake & Shifter Levers
The new GRX brake levers keep the same wide, flat frontal surface and have an anti-slip coating that was borrowed from Shimano's fishing division. They're optimized for gravel bars with a 16º flare, putting the shift and brake levers in easy reach with an angle that mimics the bar's flare.
The braking and shifting internals are the same, but the exterior gets a few refinements. The top section of the hoods where you rest your hands has been flattened out. The originals also had levers that angled outward somewhat, but they accomplished that by basically putting the entire body at an angle. Now, the tops are flatter to create a better perch for your palms:
The surface is still a bit rounded, but the effect is a flatter area for your hands.
The textured pattern remains the same, but they seemed keen on pointing out that the height of the ribs is 0.8mm, a number that came about from testing a range of heights from 0.5mm (not enough) to 1.0mm (too squirmy).
The right hand shifter lever is the same for all groups, but you'll have three options for your left hand: Shifter (for 2x groups), brake only, or a single paddle to operate a dropper seatpost.
They've offered the dropper remote version before and it looks just like a 2x brake lever, but without any ratchet inside. The internals are updated to pull more cable, increasing from 8.3mm to 10mm. They say it should work with about 99% of all mechanical droppers on the market, as long as the post pinches the cable at the dropper.
Brakes get a bit better
Shimano's brakes were already good, and now they're a bit better. The pads retract farther, increasing pad clearance by 10% so they're less likely to rub.
They're paired with (but sold separately from) the Ice Tech Freeza CL rotors, which have a 3D-shaped aluminum carrier on the CL rotors, which maximizes stiffness and resists heat deformation better, keeping them straight and quiet even after a long, hard descent.
New not-GRX Carbon Wheels
Building off the carbon RX870 wheels introduced in early 2022, the new RX880 carbon gravel wheels use the same rim and are technically a non-series item, without the GRX designation, but they are indeed meant to pair with the new group.
What sets them apart are the new hubs, which feature their Direct Engagement drive system that's nearly silent and rock solid. Shimano doesn't claim any particular degrees-of-engagement speed, but says they're fast enough, which I'd agree with after our test ride.
They're also Shimano's first hubset with interchangeable freehub bodies, with Micro Spline and HG L2 options. That means they're only compatible with Shimano cassettes, and only the latest 12-speed versions at that.
They have 24 spokes and a 32mm rim depth with 25mm internal width (30mm external) and come in at just 1394g with a MicroSPLINE freehub body. The HG L2 freehub body only adds 3g, making either option a very lightweight gravel wheel.
Pricing & Availability
All of the new GRX group parts and wheels are available and shipping at launch, pricing as follows:
Shifter/Brake Levers w/ Brake Caliper

Right side/rear shifter – $444.99
Left side/dropper remote – $414.99
Left side/brake only – $384.99
Left side/front shifter – $441.99

1x Crankset – $249.99
2x Crankset – $249.99
Rear Derailleur – $126.99
Front Derailleur – $61.99
160mm ICE Tech Freeza Rotor – $121.98
Cassette

10-45 XT – $164.99
10-51 XT – $164.99
11-36 105 – $87.99

Chain – $48.99
Wheels – $1,549.99 set ($699.99 front / $849.99 rear)
This puts all three groups right around $1,700 with two brake rotors, sans bottom bracket. Zach and I both have groups in for long term testing, and he's weighed his parts (we have the same group). Check out the GRX actual weights in his post.
GRX RX610 goes 12-speed, too
Mostly for OEM customers (as in, you'll find it on lower-priced new bikes), there are also new RX610 cranksets and shifter levers that can be mixed and matched with the RX800 derailleurs and cassettes. It'll have 1x and 2x options, with a new 38-tooth 1x chainring (steel, not alloy) but no dropper post lever option. And that 38-tooth chainring will fit on the RX820 crankset if you want something smaller than a 40-tooth.
The levers paired with them are RX400 level brakes and upgrade to the textured hoods and anti-slip levers, but they lack the Servo Wave action and flared handlebar-optimized shaping…meaning, they're basically just the original 600-series levers, just grippier and with 12-speed clickers.
What about 11-speed GRX?
Shimano will keep those original 11-speed GRX bits available for a while, but as with road bike groups and their competition, everything is definitely moving to 12-speed and they suspect that in about 5 years, all new stuff will be 12 speed. Mechanical disc brake levers might take a while longer to see 12-speed compatibility, but they're probably maybe on the long-term road map for a very budget level group.