New XTR groups come once every four years, and as soon as one launches, they start working on the next one. It starts with concept work, thinking about what the key elements need to be well before they get into the technical details. And they need to think ahead to what the bikes will be like four years from now, what racing will be like and how people will be riding them.
XTR will always be about riding faster. It will always have a focus on being the lightest, most efficient system it can be. But with enduro blowing up, they had to consider that use case. With XTR, they also want it to look good. So there's potentially competing priorities – design, functionality, and light weight. At the end of the day, they're willing to forgo some non-functional aesthetics to save weight. After all, it can't gain weight over a prior generation.
While some riders think Shimano operates in their own little world, they really do look at what the other component companies are doing to make sure their designs won't be so far off the norm that they appear out of place. Whether it's suspension or frames or other things you hang on your bike, those are considered when drawing the lines for XTR.
How Shimano develops new products
With so many new features, we had to ask: What comes first, the design or the capabilities? It's both, actually. With the new XTR, research and development started both with what they wanted out of the group, and with new manufacturing tricks they'd learned. The engineering team had developed new capabilities and processes that allowed them to do things they'd never done before, and they wanted to use them. The design and marketing teams knew it had to improve upon the looks and meet modern riders' expectations.
Initially, both sides dream up new designs, uses and features. Then they come together to take the look and feel of the design crew and marry it with the tech features in a way that can be mass produced. Not every feature or design cue makes the cut -some simply aren't feasible at production scale- but both sides are fairly represented in a final product.
First, they sketch things out on paper, then bring that into the computer and make rapid prototypes to see how things look in 3D. From there, they progress like any other brand, machining prototypes and testing them to refine the mechanisms, pivot points, and functionality. Slowly but surely, all of these pieces come together to finish the puzzle. Here's how that looks on the bike…
XTR M9100 on the bike
We covered the technical features in our launch story. Here, we'll add a bit of commentary on how all of the parts come together on the bike. The cranks retain their spindle-bonded-to-driveside layout, with the non-drive arm attaching to it. The biggest two differences are that they're now using a direct-mount chainring, and a more traditional bolt-on arm design that relies on an adjustment ring rather than their plastic attachment bolt and pinch bolt design. All are welcome improvements and updates.
That does mean you'll have to pull the driveside all the way out of the BB in order to change the ring, and our guess is you'll want a special tool to do that. The lock ring is a common BB tool interface, but it's extremely thin, and tucked in there kinda tight.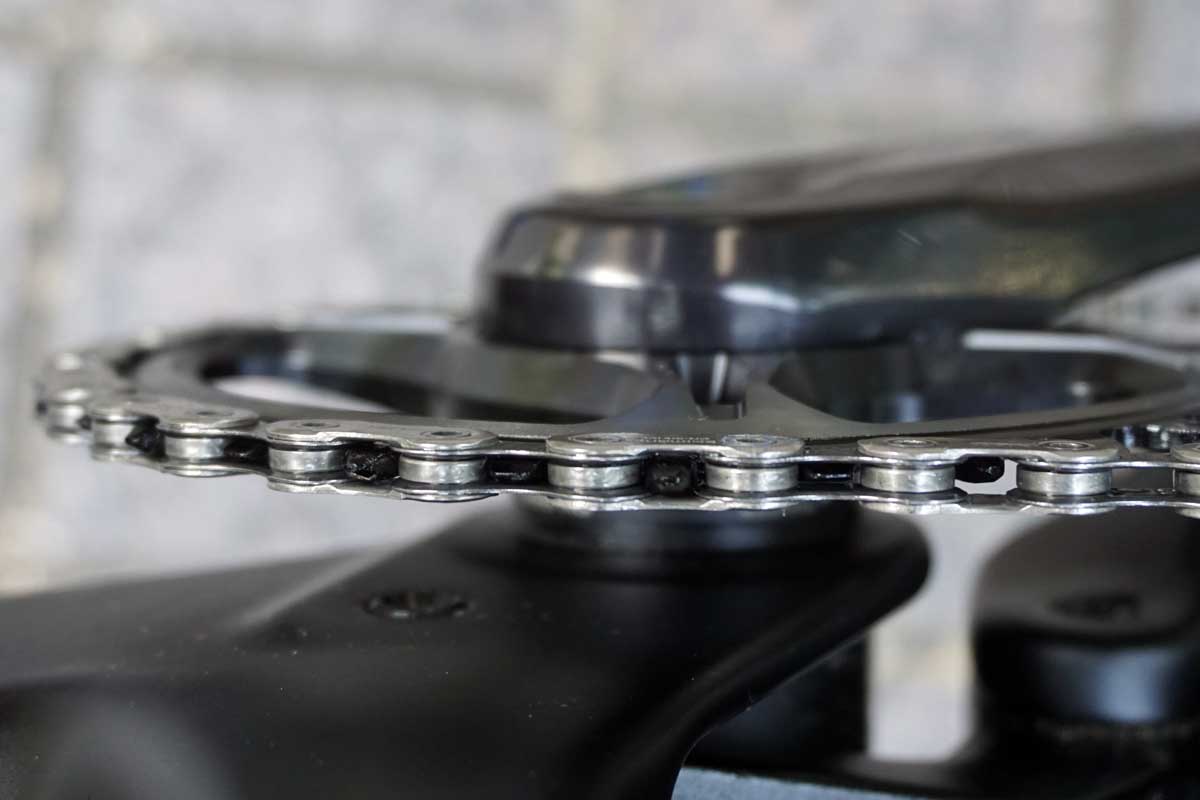 One of the key features of the new group is the chain. It's specific to this group (although word on the streets is it'll work just fine with Race Face 1x narrow-wide chainrings, too) and is designed to better capture the wider teeth. Click to enlarge the photo above and you'll see how the big teeth are centered inside the outer plates…and really aren't even making contact with them. Instead, chamfers on the inner chain plates rest against the leading and trailing faces of the wider teeth, helping the chain center itself and avoid vibrations and noise.
The cassette's most popular option is sure to be the 10-51. Partly because that's the range most of us are used to now, and partly because FOMO. None of wants to be caught out there without enough gears, and few of us are racers at the highest level where the exact optimized spread is going to make or break our days. So, the gear steps we're concerned with are 10-12-14-16-18-21-24-28-33-39-45-51.
Yes, those are some big jumps as you get toward the end of the cassette, but from a percentage increase standpoint, they're within Shimano's cadence optimized Rhythm Step program. Starting at the 10-tooth cog, you're looking at increases of 2-2-2-2-3-3-4-5-6-6-6. Which is technically their explanation for going to 51 teeth instead of 50.
The rear derailleurs use 13-tooth pulley wheels to add more chain length without having to further elongate the cage.
The clutch mechanism is easily adjustable thanks to a port on the bottom, which has a rubber seal to keep crud out.
Cable management is simple, which should make installation a breeze. Adjustment screws are all easily accessible, too.
The new brakes use much of the same master cylinder tech, but move the clamps inboard quite a bit. This not only provides more room next to your grip, but also allows the lever body to rest against the bar for better support:
Shimano says some racers were complaining of too much flex when braking hard, so this solution let's them keep a slim mounting interface while improving stiffness.
The calipers get a new design that moves hose routing inboard for a cleaner appearance. Bleed ports are easily accessible and top facing.
The XC brakes also lose the banjo for a direct mount hose, but the 4-piston enduro brakes keep the adjustable angle banjo fitting.
Both the XC pedals and Trail/Enduro pedals are heavily updated in appearance, with more pronounced platforms. And they get more spindle options for the XC set, letting racers get the narrowest possible Q-factor.
XTR M9100 actual weights & pricing
First things first – all of these parts weighed are technically prototypes, so final production weights may vary. But, this should give you a good idea of how they'll compare. Official claimed weights are shown on the price sheet at bottom. Cranks, complete with a 32-tooth chainring, came in at 511g.
The 10-51 12-speed cassette is 316g 376g, the new chain is 262g, and their high-mount chain guide is 28g. There are other options for many of these components, but only select versions were on hand for inspection. We weighed everything we could.
Low direct mount front derailleur is 86g, and the rear derailleur with SGS long car is 243g.
From left to right: Rear shifter iSpec mount (111g); Rear shifter clamp mount (116g); Front shifter iSpec mount (68g); and Dropper remote lever iSpec mount (35g).
A front 4-piston XTR enduro brake came in at 244g (no rotors were loose and available for weighing), and the XC Race pedals came in at 151g per side.
The new Scylence rear hub with standard J-bend spoke flanges was 223g, and front was 131g. Both are with thru axles, and I think both of these are the non-Boost spacing, so add a couple grams for Boost hubs. Considering the tech inside, these weights are impressively low and should provide plenty of reason to consider these if you're building up a set of custom wheels.
So, how much does the new XTR M9100 cost?
Add it all up and you have the following for a rideable group without hubs or extras like pedals, chain guides, etc:
1x XC build – $2,015
1x Enduro build – $2,075
Add $310 for a 2x system (switches to 2x front crankset and adds a left shifter). Look for our first ride impressions in June, and leave any questions in the comments and we'll be sure to get them answered at the ride event. In the meantime, check out the official launch coverage here, and our factory tour from Osaka, Japan here!
SaveSave