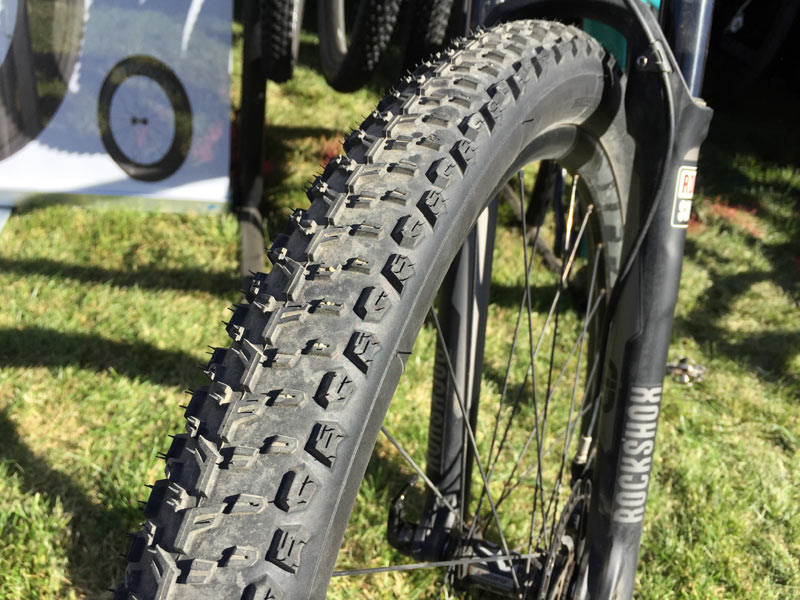 Vittoria had a few prototypes sitting on team bikes at their booth, right out in front of the new Jafaki, Barzo and Peyote treads they showed off at Taipei Cycle Show.
The upcoming Vittoria Mezcal 3 will replace the original, which was very similar to the Hutchinson Python because they were designed by the same person. Now, it has an alternating center ridge rather than the more semi-slick type pattern from before. The knobs are small and consistent across the width of the tire, and the side knobs are slightly larger with more surface area to have better cornering grip on hard pack.
Expect it to come in around 500g for the tube-type 27.5 x 2.25, their tubeless TNT casing will be a bit heavier. It'll be available in a 29er, too.
The new Morsa uses knobs with shapes and sipes that oppose the cornering force. The result is massive grip, something I felt using their parlor trick of asking me to lean the bike while pushing against the bars as far down as possible. Basically, the bars were touching the ground and it was still stuck in place. Look for a weight around 800g for the 27.5×2.3.
More details on these will come closer to release, which should be later this year.
Based off the still very new XC tire, this Peyote tubular gumwall is pure prototype at this point. It's mounted to their new Carbon Race Tubular rims made with Graphene. Tire weights should be around 700g, and the wheels are 1400g, making for a very light combination. It'll be offered in 29 x 2.25, but may not be around until much later this year.
Their Bomboloni, named after an Italian donut, was on hand, too. It's available in a 26×4.0, and 3.0 widths for 27.5 and 29er. First shown at Frost Bike, it has a 120tpi casing with dual compound casing and tubeless ready bead. The tread pattern has a fast rolling center section with overall design following that of automobile snow tires. The 29er is claimed at 900g, other weights are TBD. Available late summer.