The original Specialized Creo SL drop bar e-bike is an amazing machine, able to rip roads and gravel with confidence, and for hours on end. But it's also more than four years old, and Specialized has made a lot of improvements to their proprietary e-bike motors and systems since then.
Designed to ride on mixed surfaces, the new bike gets bigger tire clearance, more power, and the latest Future Shock, along with an updated FACT 11r carbon frame. Combined, they say it adds up to the lightest, most efficient bike in its class, coming in under 29lbs for the S-Works model!
A better motor & battery
The new Turbo Creo 2 gets their latest SL1.2 motor, which launched with the 2nd gen Levo SL eMTB. It's quieter, has 33% more power, 43% more torque, and is ruthlessly efficient.
In fact, Specialized says the SL1.2 drive system is the most efficient lightweight e-bike motor on the market, turning 80% of the battery's power into forward propulsion. They did this by gearing down the motor's much higher RPMs to output at a typical 80-100rpm pedaling cadence, maximizing the system's efficiency.
It's still small and light, too, and it's paired with a 320Wh battery pack good for up to 120 miles of riding. The motor pumps out 320W and 50 Nm of torque, considerably more than the original Creo's 240W and 35Nm.
Add their 160Wh range extender to get 50% more range. Motor tuning and updates can be done through the Specialized app, letting you adjust the output and power ramp for each mode. It ships with the Turbo mode at 80% of max power, so it's more efficient, but you can pedal-to-the-medal it to 100% with the app.
For the US market, it's a Class 3 bike that assists up to 28mph. For the rest of the world, it'll go as fast as local laws allow.
Future Shock, tire clearance & other details
Like the new Roubaix, it gets the latest Future Shock 3.0, which has different versions. Both the Expert & S-Works models ship with the fully tunable 3.3 version. The Comp gets 3.2, which has an adjustment dial but can't swap in different spring rates.
The bike is designed for 700c wheels and tires, and fits up to a 700×2.2″ (55mm), or 700×47 with fenders installed. The minimum recommended size is 700×38; anything smaller and the BB height gets too low. Worth noting that the original shipped with 38mm tires, but now it ships with 47mm tires.
One big change is a reduction in axle width. The original Creo SL used "road boost" 12×110 and 12×148 axle spacing. The new Creo 2 uses standard 12×100 and 12×142 axle spacing, which will make wheel upgrades and swaps much easier.
Geometry & Accesories
The new Creo 2 has a longer reach and front center, paired with shorter stems, and slackened the head angle. This is a popular trend to extend the wheelbase a bit for more stability and decrease toe/tire overlap as tire sizes grow.
They also lowered the bottom bracket, which should work well with the larger tire spec. I have the original Creo SL, and with the stock 700×38 tires, the cranks came quite close to the ground, but they were also 175mm long. Most e-bikes now come with 165-170mm cranks, and hopefully the new Creo specs shorter cranks…I've reached out and will update as info arrives.
The 1.2 motor also has a 12mm narrower Q-factor, so the Creo 2 will feel more like a traditional road or gravel bike. The bikes have a total rider-plus-cargo weight limit of 125kg (275lbs).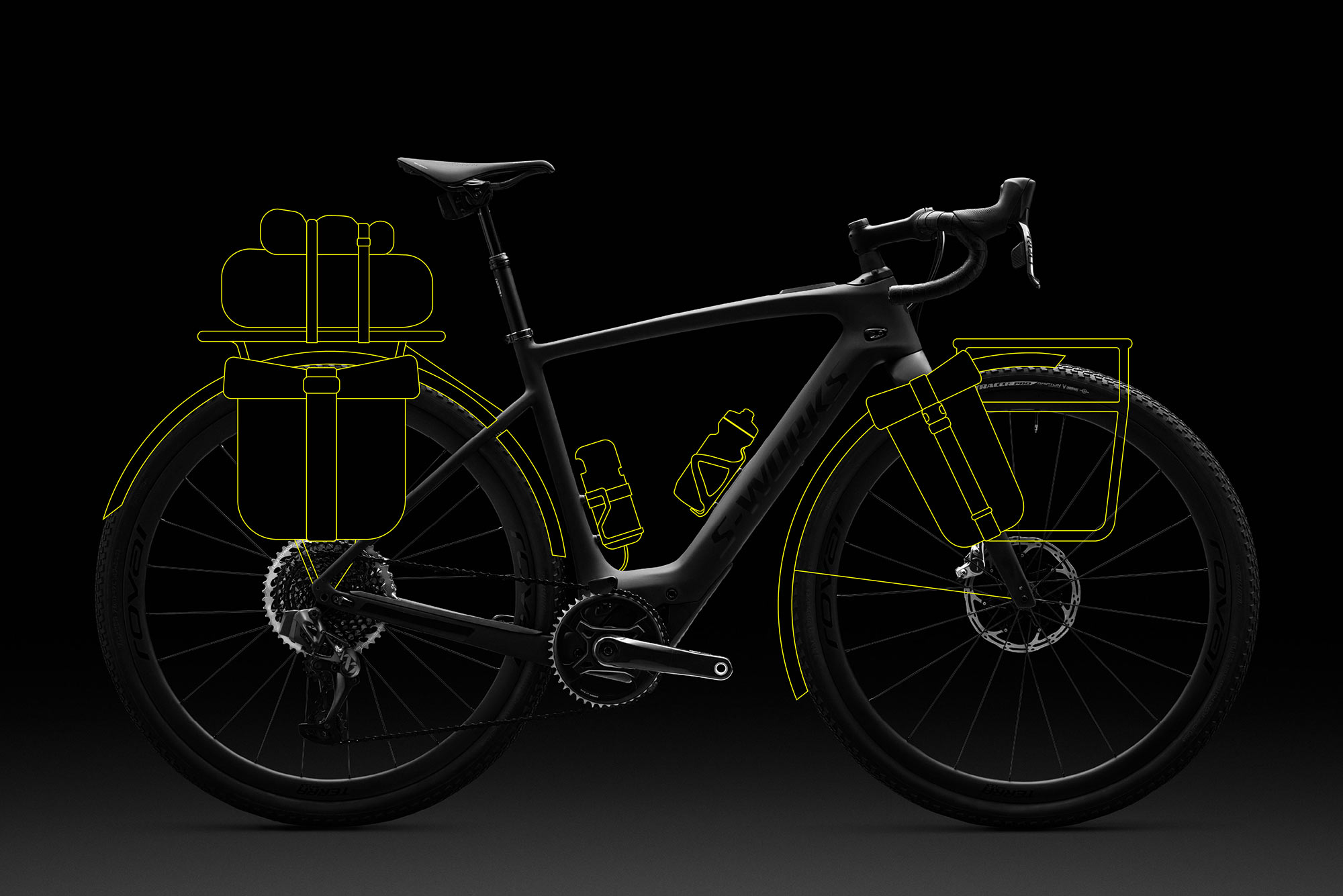 The bike has rack, fender, and fork cargo mounts. The power button and mode/battery display sits where you'd put a top tube bag, and bags that use a strap around the steerer could damage the Future Shock's rubber boot, so they don't recommend using those.
Creo 2 models & pricing
The S-Works Creo 2 runs $14,000 (€13,000 / £12,000) and comes with a Roval Terra carbon bar, S-Works Power saddle, SRAM Red AXS with XX1 rear derailleur and X1 10-50 cassette, and Reverb XPLR AXS dropper post. Wheels are their top-spec Roval Terra CLX II with ceramic bearings. Claimed weight is 28lb 9.2oz (12.96kg).
The Creo 2 Expert is $8,500 (€9,000 / £7,500) with a mixed SRAM Rival / GX AXS drivetrain and alloy cranks, Roval Terra carbon wheels (25mm internal), Tracer Pro tires, and TranzX 50mm dropper seatpost. Available in Birch Black Pearl Speckle and Metallic Obsidian. Claimed weight is 30lb 12.4oz (13.96kg).
The Comp model runs $6,000 (€6,500 / £5,000) with the same SL 1.2 motor, same FACT 11R carbon frame, and a Future Shock 3.2. Spec is SRAM Apex and X1 AXS drivetrain, DT Swiss alloy wheels (24mm internal) and a Specialized alloy cockpit. Honestly, if you've got a few good carbon cockpit and wheel parts laying around, this would be the one to get…and it comes in two sweet new colors, too! Claimed weight is 31lb 14.4oz (14.47kg).
All models get Supacaz Super Sticky Kush bar tape and various levels of their BG Power saddle…and come with tubes installed, but are tubeless ready.