With the new NX Eagle group, SRAM has brought accessibility of their 1×12 mountain bike groups to everyone. By using a standard cassette interface, it opens the door to OEM spec on entry level bikes with almost no compromises to the original's range or features. What it boils down to is weight and materials used. Here's what we think of the new group after a few rides, plus actual weights and a complete comparison of weights for all SRAM Eagle groups…
Installation is straightforward, just like the other groups. I actually had less issues getting the shifting perfectly lined up with this NX group than when I installed the GX group.
What was most immediately noticeable and impressive was how quiet the group was. Other than riding in the 50-tooth, there was virtually no noise when pedaling. With all of the Eagle groups, there's a slight noise when riding in the 50t, similar to winding a clock, largely because the chain is at it's most extreme angle and the derailleur is pulled its furthest. I expect their high end groups to ride quietly, but this one was a pleasant surprise.
The cranks arms are plenty stiff, particularly for the level of rider likely to own this group.
Another impressive feature? The looks. Shaped exteriors on the arms and an all-black motif give it a higher end look than the price suggests. Even the chainring looks more chiseled than the GX group's chainring. Which means it doesn't look out of place on a higher end bike:
Shifting was crisp and fast, both up and down the cassette.
The only potential issue I noticed was that the plasticky section holding the Rollamajig cable wheel on the back of the derailleur was a little loose. The cable's probably helping retain it, but it's here where we see the lower end materials potentially lessening the group's durability compared to higher end versions. Which is totally normal for lower end groups from any brand, just worth mentioning.
Derailleur adjustment screws are easily accessed.
Where the system makes a little more noise is during shifts. I heard a bit more of that "clank" going from gear to gear, particularly when shifting to a harder gear. It's something I hear on cassettes with individual cogs like this as opposed to one-piece clusters like their other Eagle cassettes. It'll be interesting to see how those plastic spacer rings between the cogs hold up, too.
The shifter's levers are plastic, but not flexy. The NX Eagle shifter doesn't feel any less solid than the others out of the box, and thanks to it's mostly plastic construction, it's actually the lightest shifter of the group.
Overall, my first impressions are really good. I'm stoked to see low end groups getting nearly top level performance. Yeah, it's heavy, but for folks just getting into it or without a lot to spend, it's the performance that's going to get them stoked on riding and sticking with it. For that, kudos to SRAM for putting wide range and great shifting in easy reach.
SRAM NX Eagle Actual Weights
On our scale, the parts weighed in at:
Cranks – 698g (175mm arms, 32-tooth chainring, DUB spindle)
Derailleur – 340g
Shifter – 111g (with cable)
Cassette – 612g
Chain – 271g (full length, but I trimmed off 7 or 8 links during install)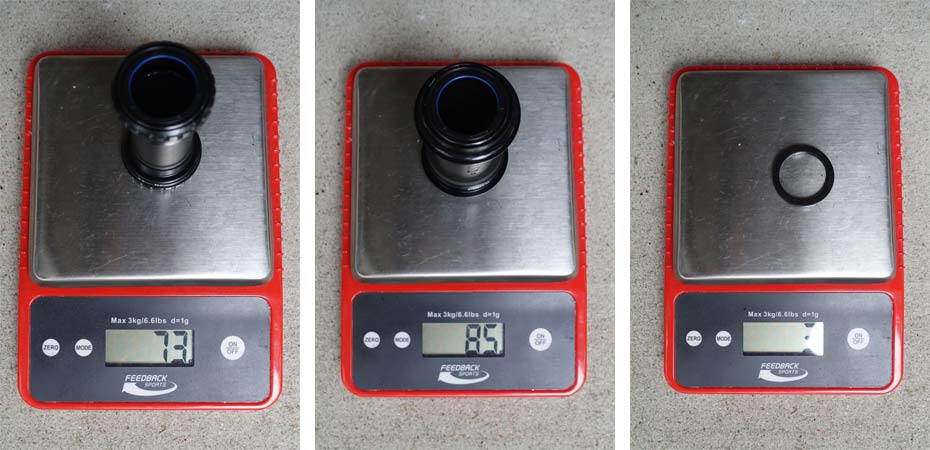 Other parts you'll need are the DUB bottom brackets. They sent along the BSA threaded (73g, tested) and PF30 (85g) versions. Both include a spacer ring that needs to go on the driveside (3g).
SRAM Eagle group weight comparisons
Here's how the weights compare for all SRAM Eagle groups, with the difference compared to XX1 Eagle:
| | | | | |
| --- | --- | --- | --- | --- |
| | NX Eagle | GX Eagle | X01 Eagle | XX1 Eagle* |
| Crankset | 698g | 632g | 520g | 493g |
| Rear Derailleur | 340g | 290g | 276g | 265g |
| Cassette | 612g | 448g | 354g | 360g |
| Trigger Shifter | 111g | 122g | 124g | 124g |
| Chain | 271g | 262g | 260g | 260g |
| TOTAL | 2032g | 1,754g | 1,534g | 1,502g |
| DIFFERENCE | +530g | +252g | +32g | — |
*All groups are weighed with DUB cranksets except XX1 Eagle, which is weighed with the original non-DUB 30mm spindle version.
For full tech specs and group overview, check out our launch coverage here.