At the official SRAM AXS launch, there was a LOT to learn. A lot to process. Everything from the overall AXS system that would control future wireless components from SRAM, Rockshox and more, to the actual new RED eTap AXS road group and its Eagle mountain bike counterpart. So I wanted to take a minute to process all that before writing my first ride impressions of the new groups. Here they are…
RED eTap AXS Ride Review
For the road test, I was handed a Trek Checkpoint gravel bike equipped with the new eTap AXS parts, Zipp 303 tubeless ready wheels and the bike brand's sweet vibration damping tech. While there were pavement and gravel riding opportunities, gravel was the right choice to drive home some of the key new features of the group. Namely, the "clutched" rear derailleur.
The roads we used were mostly dirt, looping in and out of Saguaro National Park's western district (check out our Where To Ride guide for more on this sweet winter training area!). Some were smooth, but there were plenty of riddled washboard sections that would rattle your bones. We captured slo-motion film (watch the road video at that link) of the derailleur working its magic, showing off how it managed the chain even over terrain so rough it had the bike skipping off the ground. Basically, the fluid clutch works amazingly well and, theoretically, shouldn't sap any extra juice out of the derailleur's battery.
The lack of chain slap was nice, but as a complete system, the overall quietness of it surprised me. Shifting is as smooth as ever, but just the general running and operation was nearly imperceptible. Sure, it's all clean and new, but still, it was noticeable.
The other really interesting part of the new AXS group is the sequential and compensating shifting options. Turn them on in the app, and the derailleurs will dance together to keep you at either an optimal cadence* or optimize gear steps. The * means that it's not actually checking your power and efficiency to optimize cadence for you, personally. Rather, it means that you can set shift points within the app to make it work better for your style of riding and allow the rear derailleur to drop or gain 1-2 gears when you shift the front. This is something most of us do manually anyway, but now SRAM will do it for you. You're welcome.
The Sequential mode effectively turns it into a big 1x system by automatically shifting the front and rear together all the way up and down the range. Meaning, you no longer have to make front shifts, you simply press one side to go easier and the other side to go harder, then it shifts front and/or rear for you to run through the gears in the most appropriate sequence. Personally, I'd probably not use this option very much, but it's fun to experiment with. And it's nice to have options. Once you dial it in, I can see it being a cool thing for beginners or triathletes who don't want to have to think about doing too many things while riding.
Winning my award for "Most Improved Front Derailleur" category is…drum roll please…the front derailleur! Specifically, the battery. More specifically, the battery's placement, which is now a couple millimeters further outboard.
Battery-to-tire clearance was a known issue with the 1st gen eTap group when running anything larger than a 700×40 tire. Now, you should be able to easily clear a 700×45 (frame/rim/tire dependent, of course), which is about as big as most of us are likely to run on a 2x setup.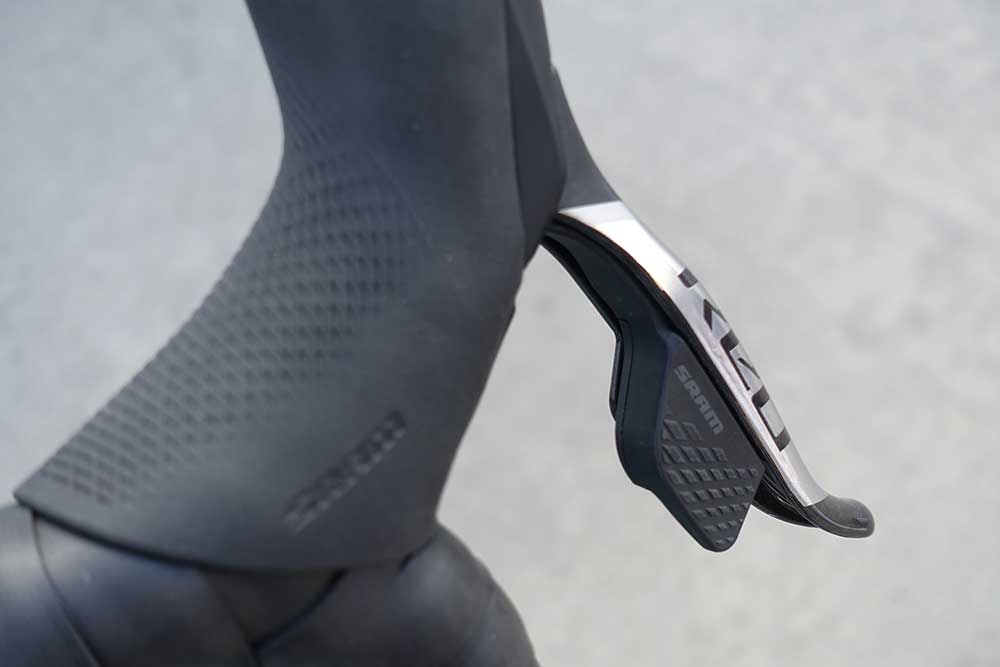 Beyond these changes, little things like improved texture on the shift paddles and visual refinements add up to a group that offers a drastically improved experience. Which leads me to the last big change: Gearing.
SRAM unleashed a whole new concept of gearing and gear ratios as part of the new group, and it will almost certainly inform future products as well. The Force eTap AXS group is slated for April 2019, and while we don't have tech details on yet, it's a good bet it, too, will use the revised gearing.
Check out the charts and graphs on the new ratios in our launch coverage for the full story, but here's the nutshell: Three different front chainring combos all share 13-tooth jumps between small and large rings. Each is designed to work with a specific 12-speed cassette (of which there are also three), but you can mix and match those pairings. This consistency means they only need one rear derailleur cage length, and chainring pairs are all machined as a single piece, so they're easy to swap in and out thanks to their direct-mount design.
Do they work? Well, I only rode the one bike with the one combo, but yes, I'd say so. Upon reflection, I wasn't constantly chasing that sweet spot that's so elusive on something like a 50/34 combo. Even a 52/36 around my local roads seems to frequently leave me cross-chained. So, I do think SRAM is onto something here, and I wouldn't be at all surprised to see other chainring manufacturers following suit.
Overall, the group offers a not just a refreshing new take on what a road bike drivetrain can be, but also opens the doors for some pretty amazing things in the future. They've addressed what few issues the first group had, made it faster and more capable, and it's better looking than ever. That Trek Checkpoint is now in our offices for long term review, too, so I'll report on long-term durability and function after many, many more miles…
SRAM RED eTap AXS Actual Weights
Road 2x (48/35 combo) – 419g with powermeter
Road 1x (48t X-Sync) – 395g with powermeter
Left crank – 156g
Front derailleur – 165g with battery
Rear derailleur – 247g with battery
Shifters – 233g/234g with coin cell batteries installed
Updated Blip Box – 24g
Rear brake caliper – 158g (with spacer, so subtract a couple grams)
160mm rotor – 118g
Where can I get SRAM eTap AXS parts?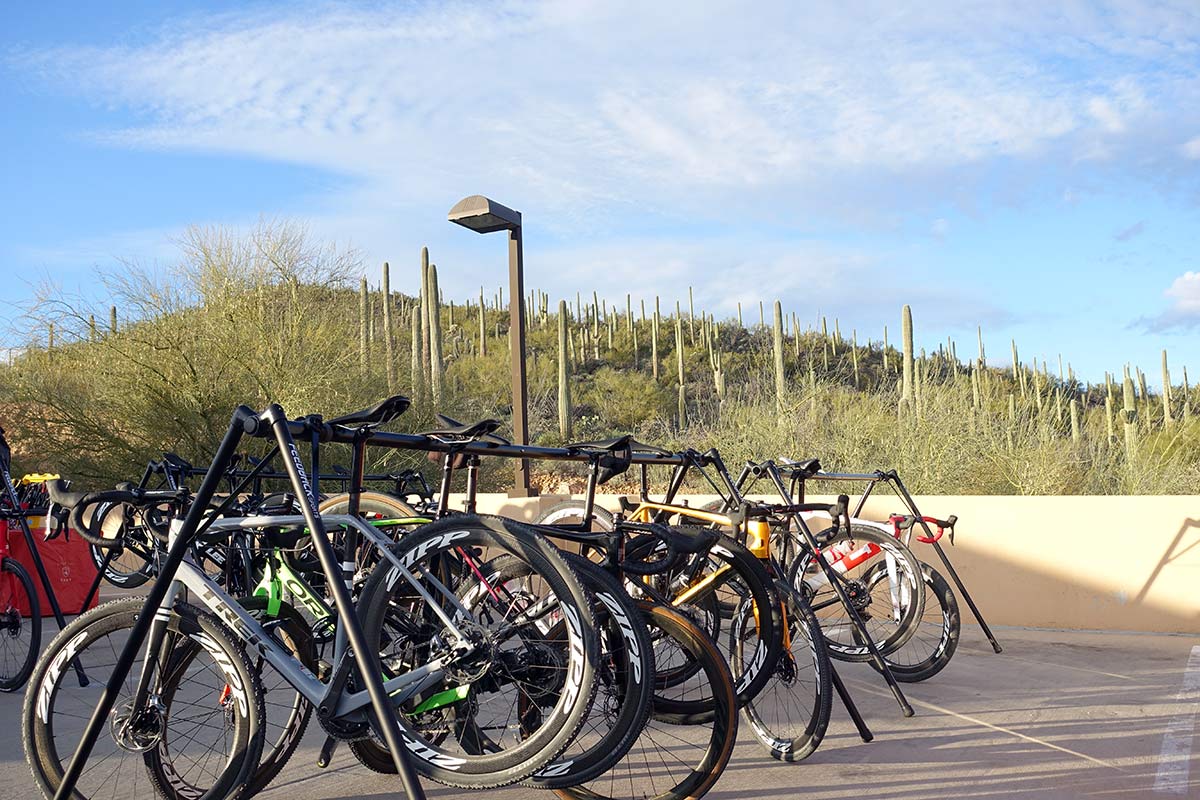 Another smart move SRAM made was ensuring launch day delivery of parts, with a number of brands ready to go with new AXS-equipped models for road, gravel, monstercross and triathlon. Here's a full list of everything you can buy as of February 2019, and there's plenty more coming.
Similarly, aftermarket groups should be shipping now, too, and you will need the complete group…sadly, nothing from the original eTap group will work here. The upside is that all new products moving forward (at least for the next couple years) will be built on this platform and be cross compatible.
Want more? Here's all of our tech stories from the SRAM AXS launch event: