In a nutshell, Komoot is a route planning app and website that helps you piece together disparate roads, trails, and everything in between to connect multiple points in the funniest possible way. Or the most efficient. Or some mix of the two, using surface type, elevation, and other factors to create a ride that other mapping systems would be hard-pressed to do. It's bigger in Europe, but it's North American presence is growing quickly, and we've been using it to create several amazing trips here and abroad. More on that later. For now, let's see how Komoot got started and what they bring to the table…
How did Komoot get started?
Founded by six friends living in Berlin in 2014 who thought it'd be a good idea to have an app that lets people explore the outdoors more easily, and find hiking and biking routes wherever you go. They started there, but some of them wanted to move out of Berlin, so they turned Komoot into a 100% remote company, letting anyone that worked for them do so from wherever they want to live. And now there are 46 of them, spread out across multiple countries and time zones, and they're planning to have 70 employees by September 2019. They use Zoom, Slack, Trello, Github, Google Drive, and more to manage the Komoot "squads" around the world.
In terms of structure, it's a pretty flat hierarchy, with the founders and higher-ups acting more as mentors than managers. This means everyone's really empowered to just get their job done the best way they can, with guidance available when needed.
If you're a power user -meaning, if you plan, record and then add content around your rides- one of Komoot's Community Managers may reach out to you to show you more features and help you use it even more effectively. And those Community Manager positions are the bulk of the new positions that'll help them double their team this year, with positions opening up in the U.S. and abroad. So, if you're interested, check out their jobs page. They get everyone together three times per year in locations like Mallorca, etc., so, you know, not bad.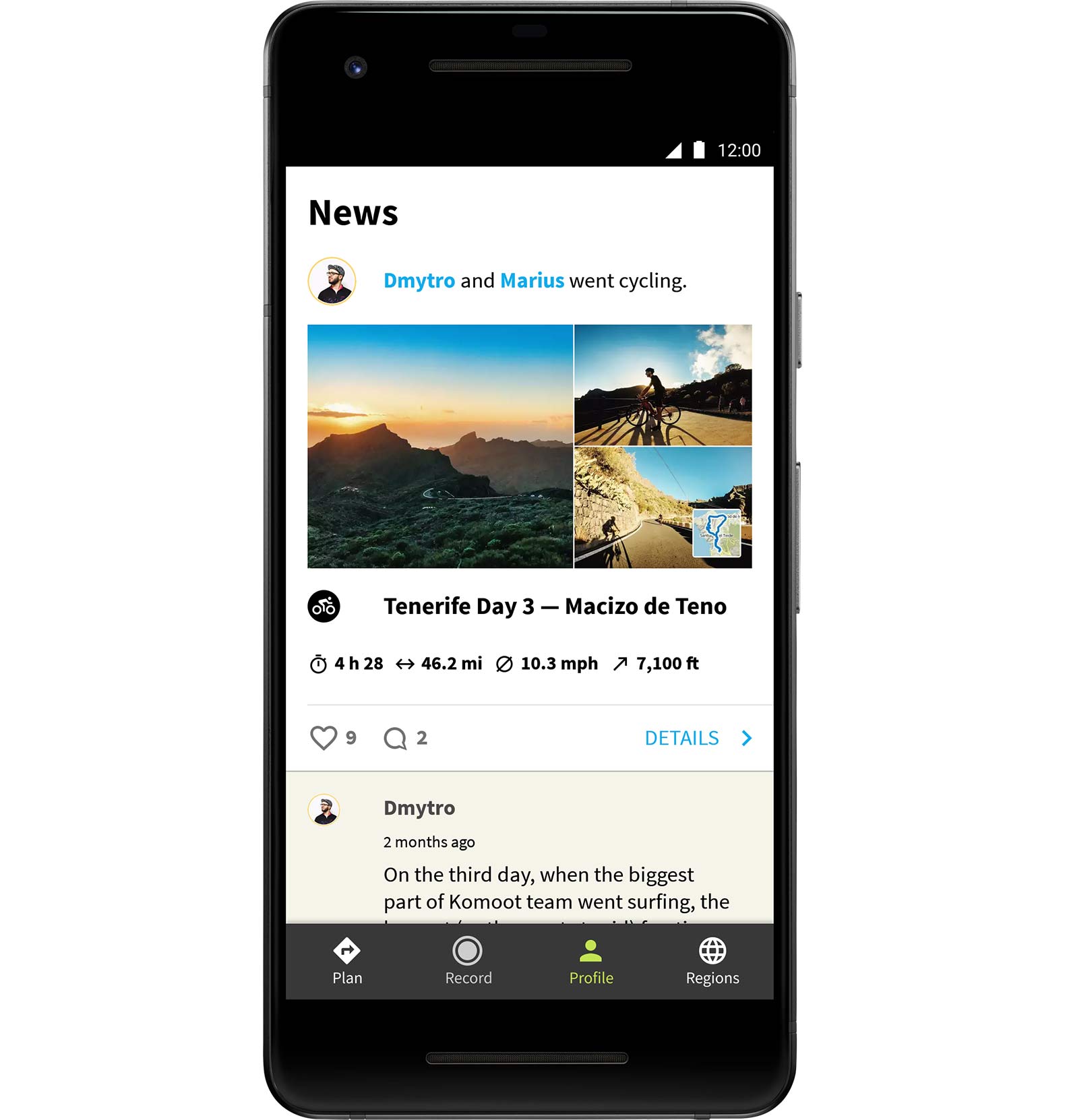 OK, so who uses Komoot?
Komoot has around 8 million users globally, about 4 million being cyclists, and 1.8 million of those are mountain bikers.
Users create their own routes, called "Tours" within Komoot (their mapping is built on OpenStreetMaps), and can tips and recommendations -like a great viewpoint, coffee shop, or trail segment- to their Tours, too. These are called "Highlights", and it's cool because it gives you the ability to add those Highlights to your own routes, helping you find neat things in a new area.
In areas (like Europe, for now) where there's a critical mass of Highlights and Tours, they have a feature called "Discover". Once activated for an area, you can search existing Tours and Highlights and choose one. In addition to the user-created Tours, their internal teams also create routes using heat maps of where people are riding, cross-checking those with user's routes and combining that with data from other websites and forums, and then looking at how often people ride each road or trail in a given area. All of this leads to the creation of smart routes, which help you find the best rides in an area…as opposed to just any ride. It's a clever feature that ensures you'll have a better ride if you're headed somewhere new, and you can search by ride (or hike) type, area or interest on their website. It's set up so you can search a specific area, or just browse different regions, which is a fun way to start planning a vacation. The more Komoot catches on in North America, the more Highlights will show up on the map.
Once you've found a route you like, you can save it to your profile. From there, you can edit it, or do a save-as to have multiple versions of it for different days or riders within your group. Any route you save on your profile will show up on the Komoot smartphone app, too, where you can use that with turn-by-turn voice navigation. This means you can tuck your phone in your pocket or pack and run a headset (or just turn the volume up), so you don't have to have your phone mounted to your handlebar.
Or, you can sync the route to a Garmin, Wahoo, Sigma Rox, and Lezyne to get on-screen cues. Compatibility with Suunto, Polar, and other computer brands are in the works.
What about mountain bike routes?
For mountain bike planning, Komoot does grade and surface analysis of the OpenStreetMaps data, so it will do a better job sending you along actual rideable trails and fire roads, not crazy-steep hike-a-bikes. Komoot displays the trail grading on the map, helping you judge how technical a trail is likely to be. Or, you can let it filter by "Alpine Mountain Biking" (more technical) or simply "Mountain Biking" (more XC style).
If there's known singletrack that's mapped on OpenStreetMaps, you can easily build your own routes setting waypoints. If the trails aren't mapped but you know there's a trail there, you can switch to Google Satellite view and add your own waypoints to create a route. This off grid feature is activated by unchecking "Follow Ways", but that can also start making your routes a little messy if you're trying to combine on- and off-grid segments within a route. It'll take a little playing around to get it the way you want, but it's an option.
You're able to set one-way and roundtrip routes, depending on what you want to do, and the algorithm will help route you in the most logical order between waypoints. You can't see other people's routes and rides on the general map, but you can see them by looking at another user's profile. Komoot's goal is more to facilitate exploration of an area by seeing other users' highlights and recommendations, then creating your own route. As such, you can't see other users' actual routes directly in the route planner map screen. Instead, you click on a highlight, then click on the user's name that created it to go to their profile and see their Tours. So, just find the area you want to go to, click on a few highlights, and start putting your own tour together.
Much like the Discover feature, the "Tour Finder" feature isn't turned on for North America yet, but worth mentioning. It lets you filter a search with several criteria like duration of ride, distance, whether it's accessible by public transportation and difficulty. The "difficulty" refers to how much climbing there is for the road, and how technical the trails are for MTB.
Another way to go about it is to search their "Pioneers" page, which showcases Komoot power users that have been upvoted by the community for creating high-quality Tours and Highlights in a given area.
Once you've found a Highlight or saved a route, you can tell the app to route you there, too. Which is handy even if you're not riding a preconceived tour. Say you're riding along and just using Komoot to track your ride and you see an interesting highlight. Just click on it, then tell the app to route you there. Or just drop a pin anywhere on the map and it can route you there, too, all with turn-by-turn directions.
You can make it better
At present, most of the users are in Europe, but they're adding staff in the U.S. to showcase how powerful the app is. To be clear, most of what we're describing here works globally. So if you like the concept, it's a pretty cool way to plan out your own routes thanks to the easy drag-and-drop, multi-layered map on their website. You can also create a route on the app, but the capabilities and map layers are a little more limited.
Once you finish, the app will prompt you to add any photos from the ride (or hike or whatever), and because they're likely geo-tagged (which your phone probably does by default unless you've turned that off), it'll give you the option to create a Highlight from that photo's (or group of photos') location. You can either create a single-point highlight (like, say, a good ice cream shop along the way), or a segment (like a sweet section of singletrack). These actions will help others find better areas to ride and vice versa. Oh, and turn your tour to "Public" so others can see it…that's key.
As for incentives, well, some of their top contributors end up invited on bucket list-level riding trips around the world.
Great, but I already use something else
So, why use Komoot as opposed to, say, Strava or RideWithGPS? For starters, Komoot is a dedicated route planning and navigation app. They say it has better algorithms for creating sport-specific routes, than letting you customize them. Second, Komoot combines things like hiking, running, trail running, mountaineering, and road and mountain biking into a single app. Third, it's global, which is more of a benefit over smaller, more regional apps that cover maybe one or two European countries, or focus on a region of North America. And compared to Trailforks, which is great for finding singletrack, Komoot lets you create a route by stringing together existing trails and then having the app lead you through them so you don't have to keep wondering if you're making the correct turns. And if you're capturing the ride with a cycling computer, you can still send your data directly to Strava, TrainingPeaks, Connect, or whatever simply by syncing like normal. If you're only using the Komoot app to track your ride, you'd have to finish, save, and then upload that GPX file to whatever 3rd party service…there's no native connection to those other accounts within Komoot itself. Yet.
Other cool features include the ability to create a route then download it as a GPX file…for free. This lets you share a route with friends who aren't on Komoot. But, considering it's free to use Komoot and do all the stuff mentioned above, they can also just create their own accounts, and then you can share a route with them directly. You can also share the routes directly on social media, too, or even embed an interactive route on your own website (WordPress, too, like that map above), which lets people play around with the route without leaving your site. All together, this ease of route creation and ability to share and upload to other devices, for free, might be the most compelling reason to download and use Komoot.
Free is good, what's the catch?
Komoot does have a paid level to make the most of what it offers. Want to navigate offline through the app? You'll need to purchase the region covering the route you have planned. Regions are $3.99 each or buy the whole world for a one-time $29.99 payment. Paying for the regions enables everything related to offline navigation, including keeping your phone in airplane mode to save battery power without giving up turn-by-turn directions and mapping. It also allows more robust turn-by-turn functionality when paired with your GPS cycling computer, too.
Basically, Komoot is a really powerful route planning system for exploring the great outdoors that has a ton more features to explore as you get into it. It combines desktop functionality with iOS and Android app portability. And with a passionate team behind it, it gets better every week. We've been using it to plan our own cycling trips and will have a full review coming soon.
---
Full disclosure: Komoot asked us to share their story as part of a larger promotional package on Bikerumor.com, and we agreed because we believe in the product and think you will find it useful or interesting.