Last month almost 200 cyclists lined up on the start line in Marrakesh, Morocco to attempt the 1150km Atlas Mountain Race, a self-supported off-road adventure bikepacking race through the rough terrain in northern Africa. Among them was one of our test riders, aboard the OPEN WI.DE. limited Detour edition, and a mix of adventure gear to sustain him for a week in the high desert. So, what does it take to endure such brutal, ultra-endurance off-road racing?
Riding the Atlas Mountain Race: Gravel bikepacking setup
192 riders started, 123 finished within the cutoff, seven days later. The winner, Frenchman Sofiane Sehili completed the 1150km (714mi) course with >25,000m (82,000′) of climbing in an astonishing 3 days, 21 hours, 50 minutes while only having slept for a sum total of 135 minutes the entire race. The next two finishers rolled in within the next six and a half hours. But most more human riders would use most of the week's time available.
Our good friend and fellow industry insider Vendelín Ondřej Veselý of Chimpanzee Nutrition, aka The Chimp, did it in 5 days, 15 hours finishing at midnight after camping alongside the route five time, and sharing photos and thoughts with us along the way. To do that, he needed a pretty specific bike setup.
What does it take to endure off-road adventure bikepacking racing?
The bike The Chimp rode was the OPEN Wi.De. Detour limited edition collaboration with Ass Savers, Gramm & Podia. We rode & detailed the carbon monster gravel bike back last summer when it came out. And we've seen and sampled the excellent Gramm Tourpacking bags over the years as well.
But about to head out into the unknown adventure racing, Vendelin swapped out three of the custom Gramm packs for bags he knew well, and had used for many other bikepacking adventures.
The Gramm Handlebar Roll stayed thanks to the combination of a solid bar-stem mountain bracket that keeps the loaded bag stable, has a quick release for easy packing and unpacking, and a holster setup that makes removing the double-opening stuff sack easy to manage. It also fit well with an extra accessory mounting bar that allowed for a Hunt+SON dynamo powered Sinewave Beacon USB-output light to be mounted above the bag, as well as a Wahoo Elemnt Roam for navigation.
Then, The Chimp added three waterproof (& dustproof) Ortlieb bikepacking bags: the accessory pack over the Gramm Bar Roll, a 6L frame pack, and a 16.5L seat pack, which also supported his folding sleeping pad.
Three more small bags finished out his setup: the 1.2L Acepac Fuel bag that opens wide with double zips, Acepac Bottle bag for snacks, and a Restrap Stem bag to carry another full size bottle. Like many AMR riders, it was all about piecing together whatever bags served best for each thing that needed to be carried, then adding options to carry more water for the 100km long remote sections through the high desert.
Bikes of the Atlas Mountain Race: Adventure Race setups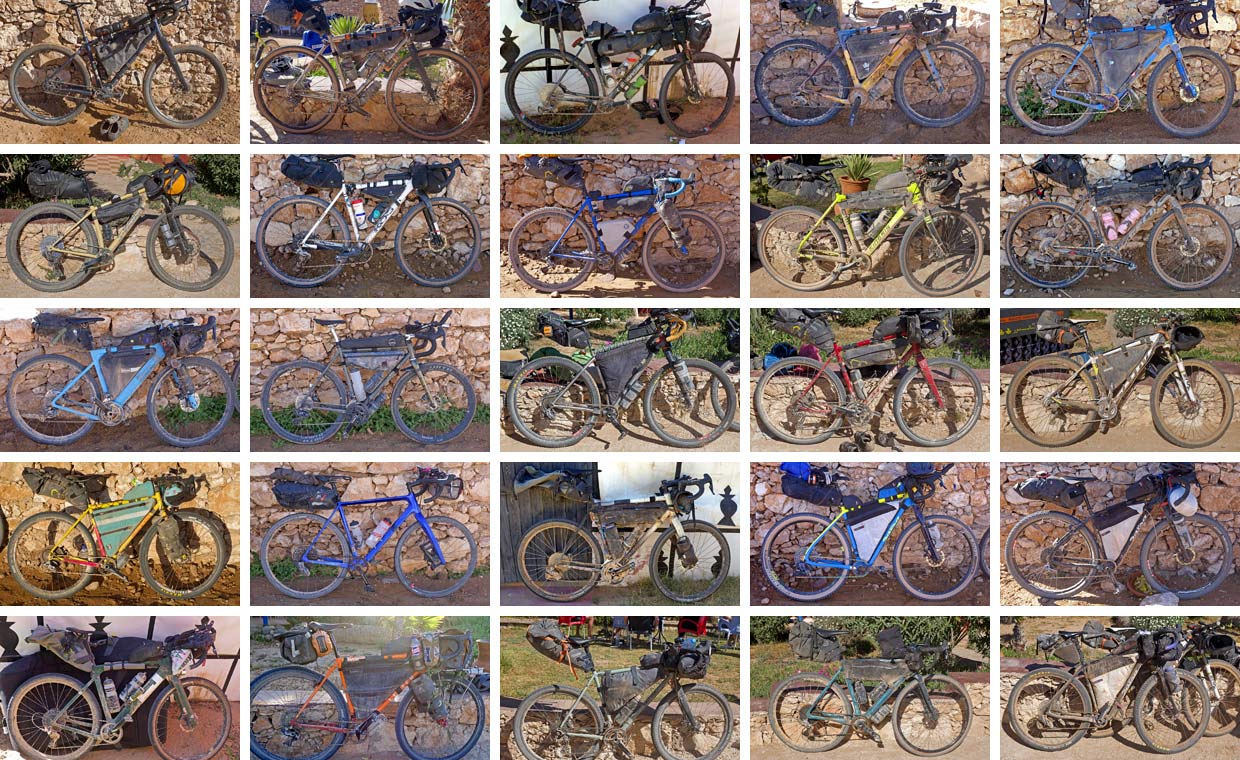 So, beyond Vendelin's Open setup, what were other riders on? In AMR Part 2, we'll break down another thirty bikes of other AMR finishers, to see why riders picked steel, aluminum, titanium, or carbon; full rigid or even suspension forks; or any personalized variation of cockpit & bikepacking bag setup. Suffice it to say, there was a LOT of variation.
Parting thought on the perfect Adventure Racing bike setup
So, do you think his setup was the best bike to endure the rigors of off-road adventure racing?
The Chimp recommends the biggest, fast-rolling gravel or mountain bike tires that will fit in whatever bike you already have whether 650b/27.5 or 700c/29er, then as many hand positions as possible, enough water to survive between refueling stops (plus some extra), lights & GPS that ideally charge while you ride, and the lightest sleeping & bikepacking bag setup that you already are comfortable with.