Over the course of the year, we see and ride some of the latest & greatest the cycling industry has to offer – new bikes, new components, and new gear, often in amazing new places to ride. In lieu of our usual holiday wish lists, the editors of Bikerumor are shifting gears to honor the cream of the crop each year. Each of our core editors will pick the best of the best across a number of categories. If you are looking for a last-minute gift idea, this is a solid place to start, maybe even write up a nice IOU for that special cyclist in your life and start planning next year's big adventure together. Here are those things that struck a chord with me in 2018…
About Cory
For a little context, I'm an off-road guy who ends up spending a lot of time grabbing drop bars, on & off the road. Essentially a rider who thinks everything with disc brakes is a mountain bike, I ride a lot on cyclocross & gravel bikes as it gives me the chance to take a bike right out the back door and down the shortest route to the nearest singletrack. As our European editor I'm all about embracing adventure by bike, and sometimes that is closer than you think…
BIKING EXPERIENCE
EDITOR'S CHOICE: Gravel Blinduro – Staré Město pod Landštejnem, CZ. I probably most enjoy getting out for multiple days on the bike, where I can go to sleep after a long day's ride, knowing that tomorrow all I have to do is get up and ride too. My days of overly serious racing are behind me, and many stage races are simply too far away or too long for a working father of two. So color me surprised when I found the Gravel Blinduro being held almost in my backyard in Czech Canada (yes, that's a real region in the Czech Republic, on the southern border with Austria.) With two days of racing, timed enduro segments, a dusk cyclocross segment, and friendly off-road riding in between stages, it was the most fun race in recent memory.
Even knowing the general region, the Gravel Blinduro held roughly 130km of surprises with every kind of hardpack, sand, smooth gravel, baby heads, rooty singletrack, and quiet field & forest roads you could wish for. And thanks to the format, we were able to ride between stages in a group of mixed abilities, then hammer it out when the stopwatch started. The trick here is that registration is super limited. You need to register now (until Dec 31) to secure a spot for next year's race Jun 22-23, 2019. Information is pretty thin (in Czech or English) besides the event's Facebook in Czech (with robot translations available.) Actual registration is in English, though, once you set up an account.
And who knows, like last year you might catch a glimpse of that SRAM engineer up top testing out the next gen Red eTap 1x with a stealthy clutched derailleur setup on Czech gravel like we saw this year?
HONORABLE MENTION: Self-guided Switzerland. If paying to go ride open roads & trail isn't your thing, might I suggest packing your bikes and heading to Switzerland. If you favor all-mountain or enduro, head to Davos for the Bahnentour 100k. It's 100km of riding and 10,000m of descending thanks to 8 uplifts in various cable cars & gondalas. Can you do it in one day? Go in late spring or summer to get the longest days (you'll need it!) We went after several lifts were closed for the season, and will be sure to return in 2019 to knock it out. Hint: Buy the trail book with all the GPX files & a map. And if you stay in a Davos-Klosters hotel, the lifts are free, but you have to buy a lift pass for your bike for just 10 Swiss francs.
If gravel is more your thing, head deeper into Graubünden, the heart of which is just a couple of valleys over. Switzerland is known for mountain & road riding, but there is an endless supply of gravel that you can link together if you are willing to explore a bit. Just think, all of those ski lift access roads, plenty of Alpine cattle tracks, and a ton of walking trails that are open to bikes as well. When you can mix pavement, gravel and light singletrack, there's nowhere you can't explore. And the views are amazing. Hint: Mobile data & roaming charges are stupidly high in Switzerland. Plan ahead and grab a local SIM on your way in. Everything is pretty expensive in Switzerland actually. But the views are free!
HONORABLE MENTION: OK, one more event. The new Toros de Gravel, Mallorca gravel gran fondo was amazing this year. Between a festive atmosphere, a mix of quiet back roads, gravel, and technical singletrack that I'd guess 99% of cyclists who head to the Mediterranean island have never seen. It was a one day 150km race, where you could camp out on site, and party in the velodrome. The October weather was still a bit hot for me to race, but the riding was excellent. Plus, there were the local Dimonis out on the trail and lighting up the killer after party with unbelievable fireworks.
MOUNTAIN BIKE
EDITOR'S CHOICE: OK, now to the bikes. When the Cube Stereo 150 29er enduro bike debuted in late April I was convinced that it was too much bike to be an everyday ride. But, I had a blast riding up and (mostly) down on the new carbon race bike. It's fast, light, forgiving, and offered surprisingly affordable complete bike builds. It doesn't hurt that it has been raced all season through the Enduro World Series.
Well, it's half a year later and I want that efficient yet supple Horst-link shredder back. I spent the later half of 2018 riding my own trails, all-day Alpine epics, and bike parks on a mix of mid-travel trail bikes (longer than my usual XC bike) and I lust for that do-it-all, soak-up-all-the-big-hits ride of the Stereo 150 29er. It weighed just 13.9kg/30.6lb and I can always lock out the suspension if I need too (maybe even give it Fox Live Valve!)
HONORABLE MENTION: I've been trail riding on short-travel XC bikes & hardtails since the late 1990s. There's something to tossing a light hardtail off rock drops & down technical chutes. Riding Cannondale's new carbon World Cup XC hardtail the F-Si with the all new Lefty Ocho fork, I came away thoroughly impressed.  It was super light, yet trail capable, even a lot of fun to ride loose & out of control in the slick mud. But as high-performing that race bike was, it was the Heritage edition of the F-Si hardtail that earned it an honorable mention. Bringing back memories of riding that first Olympic XC mountain bike course just after the racing wrapped up, I would love to build up one of these retro looking bikes into a modern singletrack slayer, maybe with a new XTR M9100 1×12, some silver alloy components & skinwall tires?
CYCLOCROSS BIKE
EDITOR'S CHOICE: Cyclocross season is short, but a 'cross bike can make for an excellent all-rounder. Merida's new Mission CX is a perfect example. Updating their old Cyclo Cross model, the new Mission brings the bike up to modern standards, while retaining a ride character that balances being fast on the course, and comfortable enough to ride a mix of road & trails all day without feeling beat up when you get home. Unfortunately, it's not super cheap, but it's light and certainly versatile. Fortunately, it also comes in affordable alloy versions, even a sweet 26″ bike for young 'crossers.
HONORABLE MENTION: Not every cyclocross racer needs a bike for every purpose. In that case, the Stevens Super Prestige is hard to argue with. This is the bike of World Champions like Wout van Aert & Sanne Cant. We've ridden and raced the bike, too. The latest generation is lighter and a bit more forgiving at the saddle than before. But it is an unabashed race weapon. Buy a complete build (actually cheaper than the Merida) or build it to spec. If you don't win races on this bike – that's totally on you. Train harder, and this bike will go faster – all the way to a rainbow jersey.
GRAVEL BIKE
EDITOR'S CHOICE: OK, let's hop over to gravel bikes. This is the hot trend right? But you don't need a carbon wunderbike to ride gravel, you don't even need to size down to 650B. Cannondale's new alloy Topstone proves it. Coming from the longtime masters of aluminum, 700 x 42mm tires give plenty of cush, while the affordable frame keeps costs down and makes extra braze-ons for bags, bottles, racks & fenders a no-brainer. Plus, the most expensive Topstone is only $2,000/2,200€ and you get one for as little as $1,000/1,000€.
On the complete opposite end of the pricing spectrum, I thought about giving an honorable mention to the Moots Routt YBB softail prototype we saw at NAHBS at the start of the year, but I guess I'll hold off until we learn if it makes it into the product line-up sometime in the future.
ROAD BIKE
EDITOR'S CHOICE: Onto the road, my top all around bike wasn't actually debuted this year. But I spent a lot of time early in the year riding the Canyon Ultimate CF SLX Disc at home & in the Alps, and it still is hard to beat.
At the same time that gravel biking has taken hold, so have both road tubeless and road disc brakes. The industry has even settled on common 12mm thru-axle & flat mount disc brake standards. The Ultimate CF SLX Disc hits all of those in a lightweight, comfortable & efficient climber's road bike (my 4,200€ Ultegra mechanical test bike weighed in at a real 7.73kg) with plenty of room for 30mm road tires – making it a solid racer, climber, or all around mixed surface road ride regardless of what lies ahead.
HONORABLE MENTION: New this summer, the aero Cannondale SystemSix deserves an honorable mention, and maybe a bit more ride time to test it. I have been reluctant to go all in on an aerodynamic road bike, first because I don't feel the need to eke out those tiny gains, but also because I prefer the comfort of a more forgiving bike, the confidence of disc brakes, and the grip, control & flexibility to choose that next dirt road with fatter tires.
Well, the SystemSix with its uniquely wide carbon wheels is more comfortable than any aero bike I've ridden yet. Plus, it has room for 30+mm tires too. The Cannondale frame claims to be just a few hundred grams heavier than that non-aero Canyon, and the calculations say the aero benefits will make it 'Faster Everywhere'. All of that plus the brand's fearless innovation ethos earn it a top spot.
eBIKE
EDITOR'S CHOICE: Cake Kalk. The most interesting e-bike I rode in 2018 (and to be honest the only one that left a lasting impression) wasn't really an e-bike, but an electric motorcycle. The Cake Kalk is probably the bike that mountain bikers are afraid of when they hear the word e-bike. There are no pedals on this thing – it is a throttle-only motor bike – twist & go. But fully electric, with no gears, so it's lighter & more nimble than a combustion engine motorcycle, and so much more confidence inspiring that any eMTB I've ridden (or heard of.)
Don't worry, this expensive (*cough* $13K *cough*) thing won't be popping up on our mountain bike trails. But it'll likely gain ground on OHV/ATV trails, where it offers a more pure experience without the jarring noise of a motor. As much as it might sound like heresy to mountain bikers, desert OHV trails like those developed by motorcyclists around Moab, UT, would be so much better on the Kalk than on a traditional two-stroke or even 4-stroke dirtbike. Plus, Cake has the idea to build sustainable tracks like the one above around the globe (maybe in your backyard?) – something in between a BMX & motocross track. Anyone who enjoys both pedaling and moto riding will have a blast on the Kalk.
DRIVETRAIN
EDITOR'S CHOICE: Coming back to actual bikes and a more reasonable budget, Shimano hit a sweet spot in 2018 with road drivetrain. The new 105 R7000 group offers pretty much all of the performance of their top Dura-Ace at less than half the cost – a complete hydraulic disc brake groupset for just over $1000- and minimal weight penalty.
The only thing lacking is a clutched rear derailleur to make it gravel, cyclocross, or off-road adventure friendly. That's where the new Ultegra RX800 rear derailleur comes in. At $110/120€ for the mechanical RX derailleur, it is an upgrade over either 105 ($52 more), Ultegra (same price) or even Dura-Ace ($98 less). Together with 105, the RX rear derailleur is the perfect solution for riding drop bars off tarmac.
SUSPENSION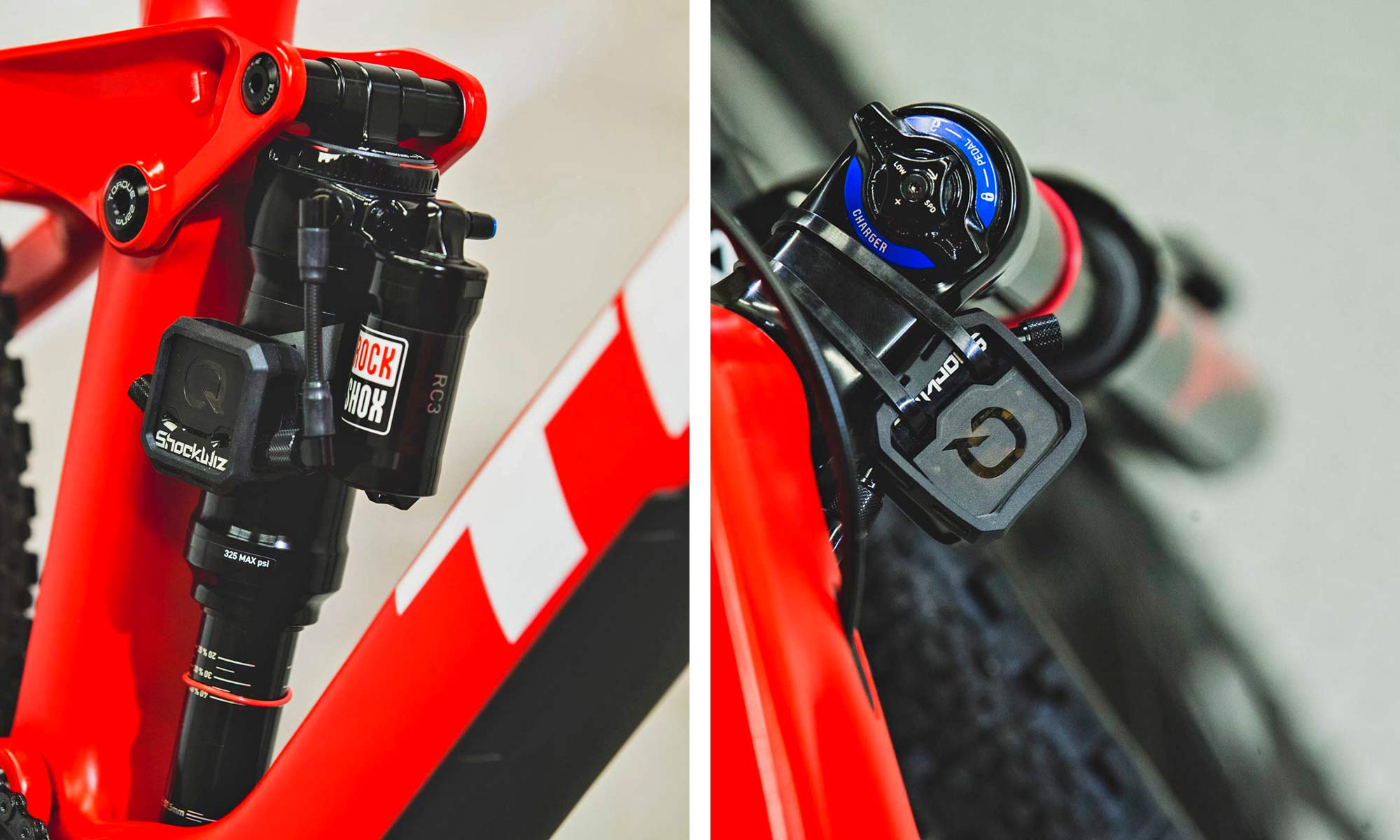 EDITOR'S CHOICE: ShockWiz has been around for a few years now, with SRAM's Quarq division buying up the tech back in mid 2016. Since then, Quarq has brought a lot more to the table, and the latest ShockWiz update brought easier & more intuitive suspension tuning. With an incredibly simple app, ShockWiz promises to get more performance out of every air suspension component on your bike. And now with easy-to-use profiles & lower pricing, it's even easier for you and all your ridding buddies to dial in your bike with a single pair of sensors. There's so much untapped potential here. I'm sure some of mine & my wife's bikes just aren't set up optimally, if for no other reason than that we just don't have the time to continue to refine the setup. This would up our game. And yours.
HONORABLE MENTION: BikeYoke Divine SL XC dropper gets a nod here, even though my time on it is extremely limited. I've had too many spongy, squishy, and downright deflating experiences with dropper posts in the last few years. One failed dropper is annoying, when it happens more than once you almost want to give up. But dropper seatposts are amazing, bringing so much to the ride experience. I've ridden a couple of trouble-free years on BikeYoke's Revive dropper, and I believe them when they say this new lighter, 80mm travel, cut-to-size dropper has "no chance of air ingestion into the lockout chamber". I plan to put it to the full test in the coming year!
TIRES
EDITOR'S CHOICE – ROAD: Continental GP 5000 TL. I'm super picky about tires. It's just so easy to improve your bike's performance with the relatively cheap upgrade of a new set of tires. Especially Road Tubeless tires.
Now that Continental has finally entered the modern road tubeless age with the GP 5000 TL, it is time to give the Grand Prix another chance. After promising first rides on the 25mm tubeless tires, I'm confident that the larger versions are worth a shot. They promise  improved durability & puncture resistance, better cornering grip, decreased rolling resistance, and a smoother ride – what's not to like! For smooth roads the 28mm tubeless sounds nice, but I'm holding out for the 32mm tubeless tires to tackle a mix of rough Czech asphalt, plenty of cobblestones, and the occasional dirt & gravel road connection.
EDITOR'S CHOICE – GRAVEL: WTB Sendero. Having embraced WTB's Road Plus concept for 650B with the slick Horizon, I've started pushing that poor drop bar gravel bike further off road. I was never entirely pleased with the skinny 42mm Resolutes, thinking they would be better with a bit more volume. Well WTB stepped it back up to 650 x 47mm for the fully knobby Sendero. This is a proper mountain bike tire you can squeeze into a gravel bike, and has already proven to be a blast during a crazy, frozen off-road night race I did with a friend a few weeks back.
EDITOR'S CHOICE – CYCLOCROSS: Challenge TLR Chicane. Notice how every winning tire choice here is tubeless? While I still prefer cotton or even silk tubulars for classic cyclocross racing, there is no denying that tubeless is the future. Even Challenge has introduced TLR tubeless versions of their cyclocross tread like the Chicane. If you ride that same wheelset off the 'cross course, a good tubeless setup will take you much further. And the Chicane does a solid job on grass, in the sand, as well as in ice & snow. Opt for the Limus if mud is a big concern for you. And with an easy tubeless setup, you can swap tires the morning of the race if you need to, no need to wait for that tubular glue to dry.
EDITOR'S CHOICE MOUNTAIN: Maxxis Minion DHF & DHR II. The Maxxis Minion tires have been around in one iteration for almost as long as I can remember. I feel like I raced DH on them something like twenty years ago. (Is that possible?) The offer amazing grip, but I always saw them as a gravity only tire. This year that changed for me, doing a lot more general trail riding on the Minions. Sure it is a sticky tread that feels like a drag while pedaling the flat to the trailhead, but the cornering and descending grip is so worth it. And as of this year the Minions are available also in almost fat 29 x 2.6″ to stick on those big enduro 29ers, plus a new 24″ x 2.4″ for kid enduro. Plus there is a new EXO+ casing that isn't quite downhill heavy, but offers more protection for enduro racing than the EXO trail casing I typically ride. Just goes to show, you really can teach an old dog new tricks.
WHEELS
EDITOR'S CHOICE: The best wheel award for 2018 goes to Hunt for making performance wheelsets with a hub dynamo. The Adventure Carbon Disc Dynamo is one option for 650B adventures, but their Search 29 Dynamo Disc mountain bikepacking wheels together with Mason Cycles are an equally solid option if you need a 700c/29er setup. Ride farther, charge you GPS during the day, and light the way at night – no batteries required!
ELECTRONICS
EDITOR'S CHOICE: I never seriously considered Garmin's Varia rear facing radar device until I was riding & chatting with retired road World Champion Alessandro Ballan this spring. World Champ in 2008, Ballan had a horrible crash while training in 2012. And while it wasn't because a car ran him off the road, he realized it wasn't an experience he wished to repeat, so now riding with the Varia radar gives him (and his loved ones) an added sense of security. I don't clock a third of the kilometers as Ballan, but now I can understand the justification of riding with the radar setup. Earlier this year (after I rode with Ballan) Garmin overhauled their Edge 520 Plus cycling computer & the Varia RTL510 radar, now offering additional rear light visibility, a smaller footprint & improved internals in the new head unit, which earned it a top spot on my list.
COCKPIT
EDITOR'S CHOICE: There's not much that has blown my mind in cockpit this year. I'm not overly enamoured by ultra-integration. But I did learn about the ultralight, made-to-order Spanish Darimo carbon road bar & seatpost this year. All of Darimo's components have an excellent looking finish, and crazy light weights  – 126g for a 42cm drop bar & 115g for a laid back seatpost, both with generous 110kg/240lb rider weight limits. Prices are surprisingly reasonable too (not cheap, just less than other uber-light brands) – 399€ & 330€ for that bar & post. Yeah, that prices it out of my reach, but at that level you get custom layup and lengths too.
HONORABLE MENTION: ERE Research added the adjustable Genus saddle to their tire lineup this past summer. After designing saddles for industry leaders like Specialized, Piet van der Velde hung out his own shingle first with some new tubeless tires. Now back to saddles, the Genus has a unique concept – that small Comfort Trigger in the nose which lets you adjust the saddle stiffness (ie. flexibility & ride comfort) on the go. It's a pretty innovative idea and would have landed a top spot, but I've only seen it off the bike because they aren't yet in the market. Expect them to be available in early 2019.
TOOLS
EDITOR'S CHOICE: Unior Tool has a new made-in-the-EU folding Euro Pro Road Stand workstand that was developed with their pro teams who wanted more adjustability and a secure connection to work on & clean lightweight modern bikes. The Euro stand gets more adjustability than competing options, with fore-aft adjustability to better balance a bike, up-down height adjustability, the ability to spin horizontally about its central axis, and extra angled adjustment so you can lock the bike in at any angle to make sure the brake master cylinder is perfectly on top for trouble-free bleeding. I like the version with a folding base, but there is also a heavy shop base for professional workshop installations.
HONORABLE MENTION: The new Mariposa Mini Giustaforza mini torque wrench is an improvement on its larger predecessor, dialing toque settings down into the 1-8Nm range we need for modern lightweight components. It's still not cheap starting at 100€ or 140€ with bits, but is a smart insurance policy, especially if you have a lightweight cockpit like that Darimo one!
BAGS, GEAR & ACCESSORIES
EDITOR'S CHOICE: Over the last couple of years, I've gotten a lot of use out of a series of bikepacking bags on everything from long meandering road rides, to year-round bike commutes, to proper bikepacking adventures. Two favorite setups are from Apidura and Restrap, depending on the specifics of the trip. But Restrap's medium-sized, standard black frame bag has seen the most overall use, across the greatest number of different road, gravel & cross bikes. Maybe it's that the straps are easy to take on & off (yet still secure), maybe it's the relatively small size of the pack that allows me to always still run at least one bottle. But now Restrap has a limited edition Contours version of the Frame Bag available for pre-order, and I just think it looks cool.
HONORABLE MENTION: On the other side, I would usually chose the Apidura packs for greater hauling capacity, or more waterproof closure. But their small Tool Pack saddle bag earns an honorable mention here because it is so tiny & simple. It's just a little saddle bag with a fold down closure that is mostly watertight (once I figured out the best way for me to fold it & velcro it shut) but made from the fully seam sealed waterproof construction of their Expedition pack line. It hangs off the rails with a single velcro loop, but has never moved from its place, has plenty of room for my road spares and is a tidy shape that stays out-of-the-way. Sometimes simple is perfect.
HONORABLE MENTION: A #Vanlife van is a cycling accessory, right? My wife & I have talked of building out a van for traveling for quite a while I guess. Nothing fancy, just room to haul bikes, kids, a place to sleep & some basic essential gear (in that order). Our project kinda got kicked into gear when we published the primer on how to pick the van for your style of adventures. We've since brought the kids into the decision process and we are slowly working our way towards finding a suitable used van. I'm gonna say it here, a #Vanlife van is going to expand our cycling adventure capabilities in 2019.
CLOTHING & APPAREL
EDITOR'S CHOICE: OK, so let me get this out real quick… the Rapha Brevet Explore Sleeping Bag system is pretty kooky. A half down sleeping bag that only works if you have a matching Rapha down jacket (or really any similar jacket to be fair.) But that sounds like a pretty cool idea, really. I mean for bikepacking, I've struggled this year when packing a tent, a sleeping bag, a jacket, and a sleeping pad just for myself (plus extra riding gear). There's only so much room in bikepacking bags.
If we are talking about cycling clothing innovations in 2018, this has to be up there with Cargo Bib shorts, right? (Oh man, Rapha did that this year too didn't they? Those things are actually awesome, minus the bananas in the pockets, of course! There are even Cargo Tights now too, that one of my riding buddies raves about.)
Anyway the Down Sleeping Bag is silly. I want one.
HONORABLE MENTION: Back in the realm of reality, my Podia Merino long sleeve jersey is my favorite piece of actual riding kit this year. It is lighter & more breathable/wicking than most long sleeve merino jerseys. It layers well, doesn't stink, is made in Europe, is cut nicely with long sleeves, it looks nice and isn't too expensive. You should probably get one too.
SHOES
EDITOR'S CHOICE: Who needs a pair of gravel bike specific shoes? Apparently someone who wants a custom heat-molded fit and the pedaling efficiency of a top-end road shoe, but without the compromises when walking in the dirt & mud on a gravel ride.
If you think road pedals are fine for gravel riding, disregard this. But if you are going to use mountain bike pedals on your gravel bike, the Bont Vaypor G shoes will give you unmatched fit & pedaling efficiency with a grippy sole that will safely navigate up a muddy hike-a-bike or the slippery terrazzo steps in my apartment building. They ain't cheap, but after custom molding them to my feet, nothing fits better.
HONORABLE MENTION: OK, seriously now, who needs two pairs of gravel bike specific shoes? Well, if you really plan on walking around camp or town or extended runups, those stiff carbon-soled Bonts are not the droid you're looking for. For that you need the Quoc Gran Tourers. If the Bonts are for a 150km gravel race against the clock, the Quocs are for a week-long bikepacking trip, hut-to-hut in the backcountry of the Alps, Scotland or the highlands of Iceland.
OFF THE BIKE
EDITOR'S CHOICE: Wait, I'm allowed to have time off the bike too? This Braasi colorful, made-to-order Wicker backpack is my go-to for traveling to & from bike events. What started a few years back with the original all black Wicker evolved over time, even though the bag itself hasn't shown much evidence of wear since early 2016.
Braasi makes bags to-order in a workshop in the center of Prague (my home base). So, after loving the versatility of the first 180€ 28L Wicker backpack, I went back for an update and had them make me a custom colored version. Now I get a navy body and orange for the net of external straps that provide expansion carrying capacity. Plus, mine got extra long top straps to attach the various iterations of Scicon Rainbags. The new Wicker also builds in an easier external access padded laptop sleeve to speed me through airport security, and a bright blue liner that makes it easy to find everything inside.
THREE SMALL THINGS
ITEM #1: I started using the Quad Lock iPhone case & bar mounts at the start of 2018 and have become totally reliant on its convenience, especially the quick access to my phone's camera. Now there is an alloy Quad Lock mount – the new Out Front Mount Pro. Yeah, I'm gonna need that.
ITEM #2: I'm also an unabashed sucker for Crankbrothers pedals. I've managed to ride them almost since their debut in around 2001 or 2002, and lucked past any durability issues some people have experienced. Riding in a lot of muddy & snowy/icy conditions I've loved how they clear grit, and the platform of the Mallet DH pedals have offered a solid platform for technical trail & enduro riding with their replaceable traction pins.
Now my wife has stolen my current Mallets to put on her own enduro bike, so I need a new pair. And a set of Mallet DH Super Bruni edition pedals would add a nice splash of color, thanks to the three-time DH World Champ.
ITEM #3: Merino socks, always! There are ton's of options for good cycling merino socks. Quoc originally threw in some nice thick & soft merino Extra Fine Merino Tech Wool Socks together with those Gran Tourer gravel shoes, and I have to say they are pretty comfy. Now they are available on their own or in a 3-pack. Rapha also make a few merino classics, but I prefer either their thick & limited stretch Winter Socks or the year-round thin Merino Socks.
But if I had to pick one, it's hard to argue with the simple, mid-weight merino blend SockGuy TurboWool selections. There are new styles several times a year, and what better way to up your #sockgame then with some fresh merino foot tubes.
Parting thoughts
As always, the best memories I've made on the bike this year were the experiences riding with friends and family. Calling back to where I started with Experiences, those rides are the best gifts we can give (no matter the weather!) Maybe as I close up this long article about the Best of 2018, it's time to scribble out another IOU to give to a riding partner over the holidays in order to kickstart the plans for the best rides of 2019.
With that, from the cold winter here at Bikerumor's European HQ, we wish you all a Merry Kerstperiode of 'cross racing and maybe a bit of Festive 500 training if you can squeeze it in. Here's to another twelve months of adventures by bike in the coming year. May it always be cozy in the tent on your bikepacking trips.
Of course many more great products have passed though my hands in 2018, but this collection highlights the best I've seen or ridden. Check out Tyler's list for his favorites, and stay tuned for Zach's later this week. Full disclosure: All of these products have been chosen purely on their technical & performance merits for the reasons described above. Under no circumstances were any of my selections paid for by their producers. Nor was any preference or favor given to advertisers or brands who bring us on trips. Our selections are for the most part (but not exclusively) limited to products we've actually had a chance to ride or test in person. So a brand's willingness to invite us to join a launch event, or to provide product samples does make it more likely that we will have considered their products, if only because we can share our real, firsthand experiences.
SaveSaveSaveSave
SaveSaveSaveSave
SaveSave