Dahon's been making folding bicycles for more than 30 years, and the current crop shows it. We've fooled around on various models over the years, mainly at trade shows, but having had the Formula S18 in the stable for the past ten months or so has given us a new appreciation for folders.
Fair warning: This model's not in the MY2014 lineup, but you'll find a similar frame on the Speed series bikes, or a curvier version in the Vector P20, which is it's closest sibling. The only downside is there's not currently a similarly priced disc brake-equipped model taking its place. The upside? Some dealers still have stock of this one and prices are likely around $1,200 or less, which is a bargain for this bike.
Even with just 20″ wheels, this thing can hammer. It can also roll along peacefully. And it fits a wide range of people – we put Evan (5'4″ on a good day), Kristi (5'7″) and myself (6'2″) on it with ease. We also let plenty of other friends ride it, and they all had a smile on their face. We even managed to crash head over handlebars. Twice. And the bike's still rockin'…
The bike's equipped with an 18-speed Shimano drivetrain (Tiagra derailleurs), Microshift trigger shifters and their own CNC'd cranks that mount the same as Shimano parts.
The whole thing folds down in as little as 15 seconds. My best times were more like 25-30 seconds, but it can be done quicker. Small, powerful magnets near the axles connect when folded and hold it together. The pedals fold in to further minimize its footprint. This thing could fit most desks with ease, and I was able to fit it inside the Thule rooftop cargo box I reviewed. Weight is around 26lbs, which is easy enough to take up a few flights of stairs.
Avid mechanical disc brakes proved perfect. Plenty of stopping power and modulation and no worries about keeping things lined up at the rims when folding it over and over again. The handlebar's easily rotated thanks to a quick release at the top of the stem, and the entire steering column telescopes to allow a massive range of adjustment. To fold it, simply drop it all the way down and undo the base so it folds toward the fork. You do need to make sure the telescoping clamp is tight before you head off, or your steering may not be 100%.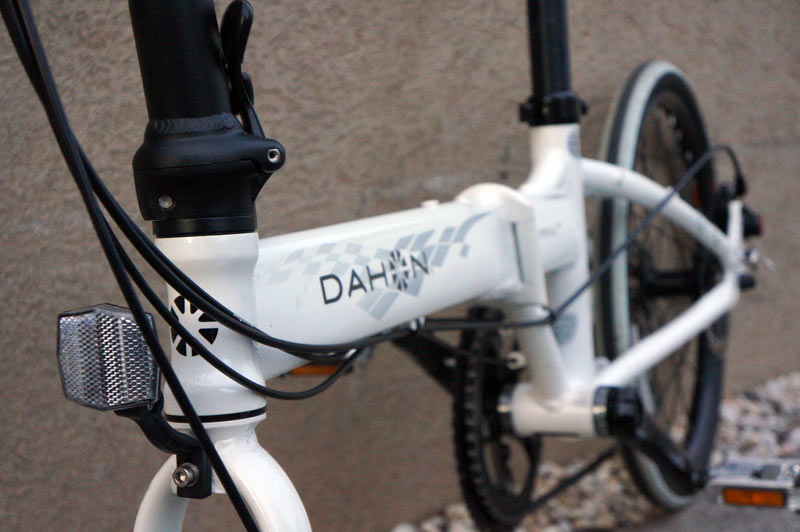 Internal headset gives it a clean look. This sort of detail is all over Dahon's line, as is generally good, name-brand spec where it counts. This one's got WTB rims, Schwalbe tires and Kore post and saddle.
Standard drivetrain parts means repairs and replacements are easy to find. That makes them great travel bikes.
All of the folding mechanisms have safety catches so they can't just release mid-ride. And the main pivot's internal hardware is adjustable to take up any slack that may accrue over time. We never had to fiddle with it.
On the road, it's a blast. That is to say, it's as much fun to ride as any other commuter, and just about as quick. One-handed operation is a little squirrelly, as much because of the smaller wheels as the very narrow handlebar, but with both hands on deck, it's easy to control.
The standard drivetrain meant I could hum along at normal speeds, and whether seated or standing to beat a yellow light, it was stiff and creak free over the course of the test. It did feel a little weird rocking it back and forth when cranking, but it never acted weird. In other words, it's surprisingly stiff considering all the joints.
The small size makes it easy to maneuver around the city. And it holds a line just fine on the open road.
For a commuter, it seems to make quick trips even quicker and easier. And Dahon sells racks and other accessories to help you haul more of a load.
There's a lot we like about the Formula S18. So much so that we wish we could hang on to it. It takes up almost no space but is ready for action anytime. In fact, the only thing we don't like is that they stopped making this model.
Like it? Check out some of the more interesting 2014 models here and here.