The YT Izzo took a minute to get dialed. But once I found the rear suspension's sweet spot, this 130mm trail bike came to life and felt fast both up and down the mountain. Launched as shorter travel entry point to a brand known for bigger bikes, it uses a completely different suspension design than YT's longer travel models.
But they pulled it off. If you're looking for a mountain bike that'll handle your quick singletrack rides just as well as the all-day, all-mountain adventures, keep reading…
Nothing like seeing the bike in action, and in this video I'll cover the tech highlights before hitting the trail to show how easily it whips through the trees, soaks up bumps, and climbs like a goat. More pics and complete bike weight below.
YT Izzo frame details & tech
The head tube is short, keeping you low to match the bike's overall diminutive stature. The one thing that kept standing out about this bike is just how low the center of gravity is. Thanks to the dramatically sloping top tube, an inverted rear shock, and generally low-slung appearance, it was incredibly easy to whip the bike around underneath me.
Sharp lines and creases in the top- and down-tubes accentuate this, and likely add to the bike's overall stiffness under power and carving turns. The cumulative effect is a bike with razor sharp handling.
The YT Izzo's head angle sits at 66º or 66.5º depending on where you set the flip chip. It'll also tweak BB height and such slightly.
I ran it in Low the whole time and it worked just great on our local XC-oriented trails, so that's where I'd leave it. But it's nice to have options if you live somewhere like PA with taller roots and rocks to negotiate.
For $5,299, the Izzo Pro Race edition gets a SRAM X01 Eagle group and G2 brakes, all of which worked flawlessly. It's worth mentioning that all Izzo frames are the same, so if you bought the $2,999 Comp base model, you can upgrade with confidence knowing that you're building on the same frame as its special $5,499 Launch Edition top model.
The bike comes with huge-for-its-travel brake rotors, putting a 180mm in the back and 200mm up front. That's with spacers, so you could downsize if that's overkill for your area and riding style (and to save a few grams).
Other build kit and design details include SRAM's grips with their TwistLoc rear shock remote lockout, a Race Face dropper remote controlling a Fox Transfer dropper post, and Race Face bar (carbon) and stem (alloy).
The TwistLoc remote works in reverse of it's intended design since it's linked to a Fox shock. So, you pull it to open it up, and hit the release button to lock it out.
A drain hole at the lower shock mount area keeps water from pooling. Bolt-in cable guides help secure all the shift and brake lines; I never heard anything rattle on this bike, and even the…
…freehub on the DT Swiss XMC 1200 Spline wheels was relatively quiet, making it a bit easier to enjoy nature as you rip through it. The wheels, which are respectably light and a nice upgrade at this bike's MSRP, are wrapped in big 29×2.35″ Maxxis Forecaster EXO tires. These provided plenty of grip and rolled quickly, making them a good spec choice for this bike.
In the video I mention that the Thirstmaster 5000 water bottle is included with the bike, but actually it's available separately. The frame has standard water bottle mounts, to which you could bolt any bottle cage. But if you want a huge 28oz (835ml) bottle in that space, this ~$50 option makes it possible.
YT Izzo actual weight
My size XL bike weighed in at 27.43lb (12.44kg) out of the box, set up tubeless, with the Fidlock mount and bottle attached. And it "felt" about like that when lifting it, but once out on the trail with fresh legs, I felt like the bike rode a little faster on the flats than I thought it would for the weight.
YT Izzo ride review
Should you finish reading this and order yourself a YT Izzo, plan on spending whatever time it takes to get the rear shock's air pressure just right.
I don't know if it's YT's particular kinematics, the slight anti-squat properties they gave this model, or just the size and volume of the shock. Whatever it is, it took me a few rides and some experimentation to get it right. It was somewhere around 25% sag, so start there, but I'm embarrassed to admit I don't remember the actual final spot. You'll know it when you get there.
When I did, I was rewarded with a bike that pedaled smoothly and efficiently on the flats…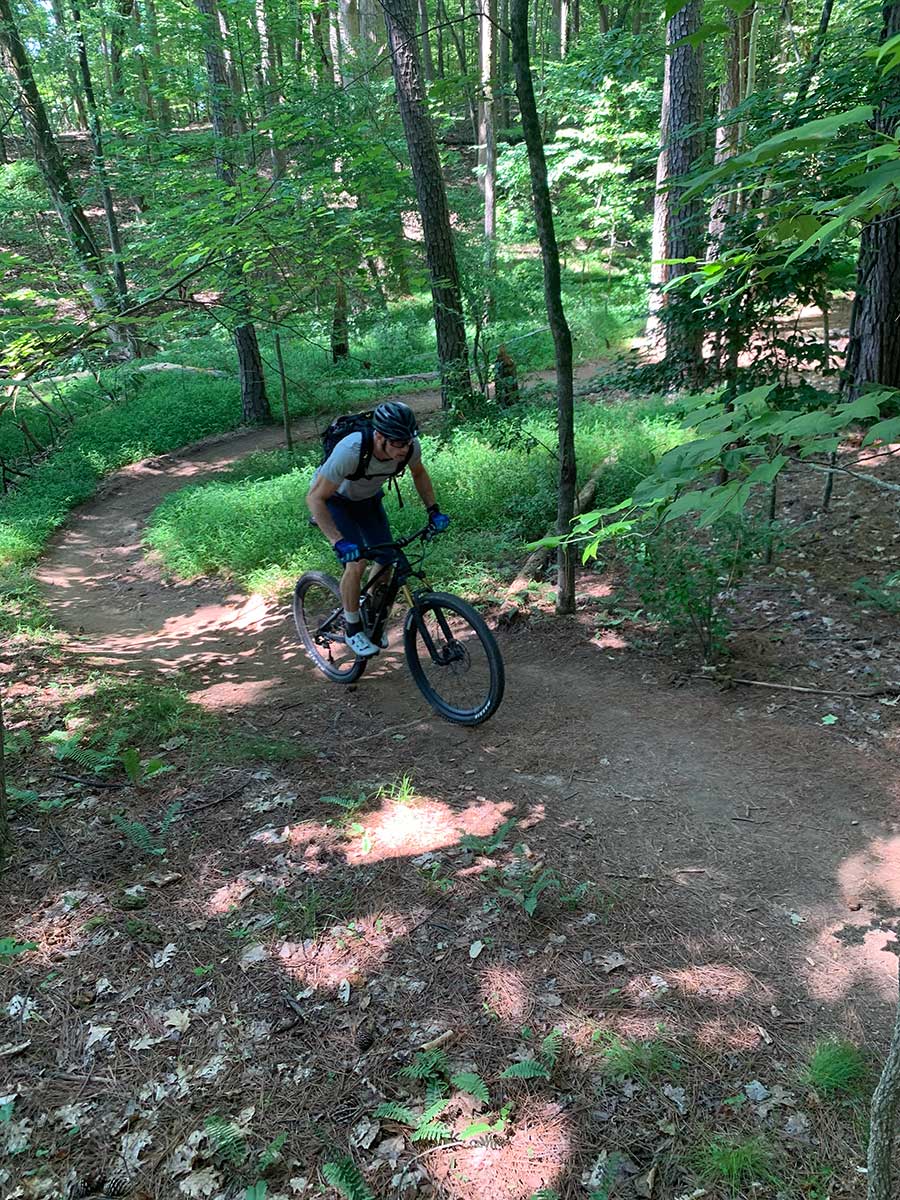 …and the climbs. Whether seated or standing, I never really felt the need for the lockout. Yes, it'll make a difference, but I don't think it's necessary on this model. And while the TwistLoc shock remote works great, it and its accompanying grips, aren't that comfortable. I'd rather it come without a lockout and have the option of running my choice of grips.
The YT Izzo proved to be a very capable bike that was also fun to ride. Which is a good mix. The ultra-low frame made it feel quick and nimble, and the geometry backed it up with actual quick and nimble handling.
Yet without losing stability at high speed, as you can see in the first riding part of the video as I'm speeding down a tight, narrow section of singletrack.
What I keep circling back to as I think through my experience is this: It rides fast, like a lighter 120mm trail bike, but has the extra travel (130mm front and rear) and support to take bigger hits and landings.
I could see this bike performing equally well in places like Virginia's Blue Ridge, Pisgah (NC), and Santa Cruz (CA). All three areas have long climbs and ripping descents, albeit with drastically different types of dirt, roots and rocks between them.
The Izzo is game for anything from XC to aggressive trail riding, but those two east coast locations would be the upper limit of where I'd ride it. Meaning, for many mountain bikers, it's a great bike for the kind of riding most of us do.