Just like on the road, plenty of next generation prototypes are revealed at the pro mountain bike races. Pro's testing new frames, new suspension, drivetrains & even clothing are a good indicator of what's to come for MTB consumers next year. We've kept our eyes open & our ears to the trail to have a good sense of the future of mountain bike tech. Here's what we think is coming in 2020…
More bikes with shorter travel & fun geometry
Many riders don't need nearly as much travel as they're lugging around, but the slack, fun, and stable geometry of longer travel bikes is certainly attractive. Which is why we're seeing more shorter travel bikes with "progressive" geometry. By which we mean slacker head angles, longer reach, shorter stems, and lower standover height. Sometimes lower bottom brackets, too. Often, the fork will have 10-20mm more travel than the rear. We expect this trend to continue as companies build bikes that are extremely capable, light weight, efficient, and most importantly, more fun to ride.
Boost vs. Super Boost?
Where this one ends up is anyone's guess. We saw a few new bikes (that weren't Pivots) move to the wider 157x12mm rear axle spacing in 2019, but we also saw brands like Ibis figure out how to make Boost 148mm hubs work with 29 x 2.6″ tires and relatively short 17″ chainstays. Theoretically, Super Boost still should allow for stronger wheels and better tire clearance for true Plus-sized tires, so we wouldn't be surprised to see more Super Boost bikes in the future.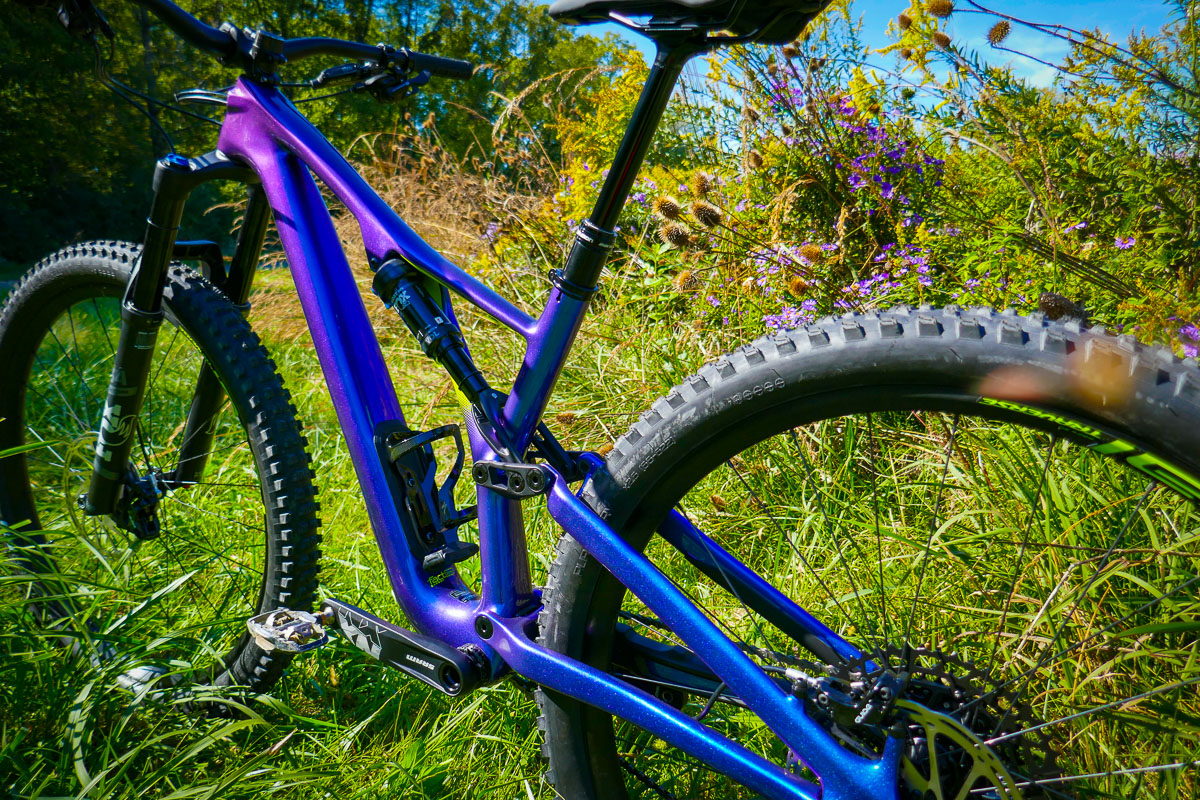 Bigger tire clearance
Along that train of thought, we wouldn't be surprised to see bigger tire clearance across the board. The "Plus" train seems to have slowed, but the ability to run 2.6″ tires or 2.5″ WT (WT = Wide Trail, meaning tires with profiles made specifically for wider rims) tires with plenty of mud clearance is welcomed by many. We see 2.6″ becoming the sweet spot for many frames, with a number of bikes already offering them. Those 2.8″ tires though? They've kinda committed dinosaur.*
*They're going extinct.
More integrated storage options
Backpacks are out. Stashing tools and spares inside your bike is in. Specialized sort of set the ball rolling with their SWAT Box system, and Trek recently followed up with a very similar concept on the new Fuel EX. For those that don't have it already integrated into their frame, Specialized, Granite Design, OneUp, Wolf Tooth Components, Topeak, All In, Industry Nine, Sahmurai, and more companies are creating ways to hide tools in your steerer tube, handlebars, crank spindles, axle, and elsewhere on your bike. As long as the storage options are quiet (no rattling), and easy to access, this is a trend we can get behind – it's really nice being able to just grab your bike and know that your entire tool/spare kit is already inside and ready to go.
The Fox 34 Step Cast will finally get some competition
For more than a year now, the Fox 34 SC has been the premier lightweight 120mm fork in town. Yes, there was a 120mm SID for a minute, but it never gained OEM or aftermarket traction. And yes, Cane Creek has the Helm Works that can drop down to 120mm, but the Fox 34 SC is still 250g lighter.
The market for lightweight, 120mm XC bikes continues to grow, and we're pretty sure Rockshox doesn't like seeing Fox get all that spec. As in, ALL of that spec. Whether they come out with a more trail-worthy 120mm SID to take advantage of that model's reputation for lightweight, or develop a "Pike SL" to convey trail-worthy confidence, remains to be seen. But we think Rockshox has to do something.
New XC race proven suspension from DT Swiss
Last spring we spotted a DT-sponsored pro winning an XC World Cup and getting a bunch more elite podiums on an unmarked prototype suspension fork. DT Swiss hasn't confirmed anything yet, but based on the Holistic Suspension overhaul they did with their new 535 One trail fork last year, we anticipate similar position-sensitive damping on what we expect to be what we're calling the DT Swiss F 232 ONE cross-country race fork in 2020.
That F 535 One trail fork also got an accompanying new R535 One rear shock as well. So we expect XC race bikes to have a new F 232 One fork & new R 232 One shocks at their disposal next season.
Next gen Shimano S-Phyre XC9 mountain bike shoes
Mathieu van der Poel raced cross & cross-country this year in prototype Shimano S-Phyre mountain bike shoes. Overall they look very similar to the current XC9s, that every other pro was still racing, but with a few key differences that suggest an incremental but important update to the benchmark XC & CX shoe. We expect a new generation of XC9 mountain bike shoes to debut in the spring with MvdP's new protected BOA dials moved from the midfoot strap to the main body for a more comfortable & secure fit.

More brands offering drivetrains
Rotor has their 1×13 group with hydraulic shifting. TRP has a DH rear derailleur and is working on a trail version. As best we can tell, they're collaborating with e*Thirteen to get the cassette. And Box has been making their drivetrains for a couple years now, offering a few different cog counts for trail and DH.
Why? Because it's about the only way they're going to get OEM spec. Shimano and SRAM really, really like bike brands to spec complete drivetrains and systems. As in, reeeeallly, if you get where we're going with this. Which means if TRP wants their brakes on a bike, or Rotor wants their cranks, they need to be able to provide a complete group. There are other factors, like having a global warranty support program that are important, too, but it starts with just having the option for components.
What this means for us is more options. And potentially higher performance at lower price points on new, complete bikes. Maybe.
SRAM Eagle AXS won't trickle down
Speaking of drivetrains, we doubt you'll see cheaper Eagle AXS options. While it makes sense to offer multiple price points on the road (Red, Force) for their wireless shifting groups (because their mechanical road groups haven't jumped to 12-speed, though we think that might change, too), it's a different story on the mountain. From a materials standpoint, there's not a lot they can do to make the AXS rear derailleur or shifter more affordable. Which is why both the XX1 and X01 Eagle AXS rear derailleurs are $700 despite slight materials differences (carbon/ti versus alloy/stainless).
The whole point of AXS is to be a pinnacle product, and that's where it's likely to stay. Besides, you can already mix and match it with any level Eagle cassette and crankset, so there's simply not much point in offering a lower priced Eagle AXS option. If you need to save money, their mechanical groups are still basically flawless, and they have price points that drop to just a few hundred bucks for a complete group.
But we might see more AXS options elsewhere
There's no doubt AXS is the future of SRAM's top-level development. The Reverb AXS is just the beginning. If we were running the show, we'd be prepping a wireless lockout switch to fill in that other rocker position on the left side remote. As we learned at the launch, battery draw isn't so much that they couldn't run a smaller, integrated battery pack inside the fork crown or rear shock head and make it work. You may have to charge it more often, but we'd prefer that to a draggy cable-actuated remote lockout lever cluttering our cockpit.
We'd also love to see a minimalist Blip Box that could be hidden in the stem and allow for a shift setup like Kate Courtney runs. And, really, this is just the beginning. We're sure SRAM's Schweinfurt office is scheming up other uses for it (seriously…a remote garage door opener. Please!).
What do you think?
Where do you see mountain bikes, components and tech going in 2020? What would you do with that extra AXS button? Do you want to see our Road, Gravel & Cyclocross predictions? Leave your thoughts in the comments!